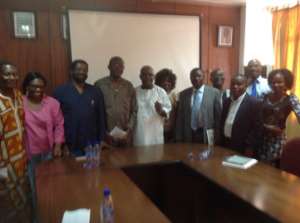 Deputy Greater Accra Regional Minister Nii Djama Vanderpuje, has urged Ga Dangmes in the Diaspora to come home and invest such that their native land Accra and its environs will be the beneficiaries of their efforts.
According to the minister, Accra as the capital of Ghana has a lot of investment opportunities which when harnessed could bring about major development.
Nii Djama Vanderpuje made the call when Presidents of the Ga Dangme in Europe (GDEu) and GaDangmes international (GDI) -US & Canada together with some executives of the two groups had a closed door meeting with him to deliberate on issues on the heart of Ga Dangmes across the globe especially Europe and North America.
Nii Tetteh Okoso Mensah, led the GaDangmes from Europe, whilst Dr. Martey Dodoo also led the Ga Dangme's domiciled in north America were able to discuss issues ranging from the status and ownership of the Community Centre; re-development of the Salaga Market which has been operating over a decade on the street in front of Gbese Manste palace; Decongestion activities within old Fadama and Agbogbloshie and the refinements of the Ga Traditional Council which are all located within the Accra metropolis.
Addressing the challenges presented by the two associations, the Mayor of Accra, Honourable Alfred Oko Vanderpuje, who was part of the meeting gave the hint that plans were far advanced to award the Accra community Centre and the Salaga market for a contract in a private public partnerships which will see great development for the community and AMA as well as government.
GDEu and GDI, however, assured the deputy minister and the Mayor of Accra of their total support in terms of any development agenda that will help the people of Accra and invite the minister and the deputy to their annual conferences which will start with GDI in North America to be held in Washington in may and October for GDEu to be hosted by Zaragoza, in Spain.