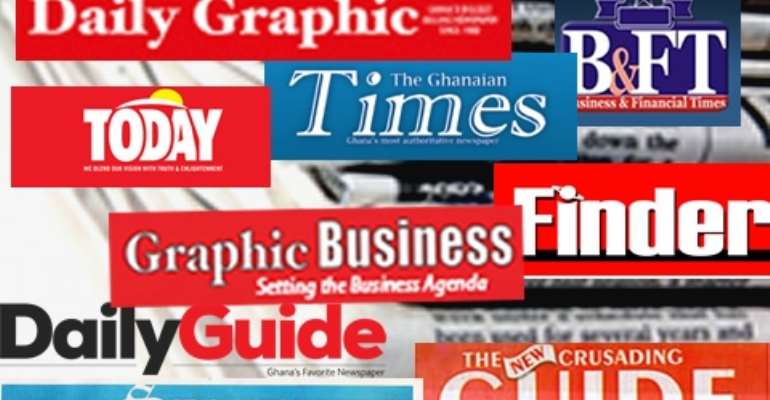 2014 WASSCE CANDIDATES IN TROUBLE; 3 VARSITIES TO DENY THEM ADMISSION THIS YEAR
The fate of at least 150,000 candidates of this year's West Africa Senior School Certificate Examination (WASSCE) who may seek admission to public universities hangs in the balance.
TWELVE HOUSEHOLDS 'IDENTIFY' KOFORIDUA ROBBERS
Three suspected armed robbers and their three accomplices who allegedly robbed residents of the Koforidua Medical Village and other communities in the New Juaben municipality appeared before the Koforidua Circuit Court yesterday, charged with robbery, rape and dishonestly receiving stolen items.
FARMERS DEMONSTRATE AGAINST GMOs
The fight against the introduction of genetically modified organisms (GMOs) was taken to another level yesterday as Rastafarians and members of some civil society groups hit the streets of Accra to demonstrate against GMO's and the Plant Breeders' bill which is before Parliament.
PROSPECTS ARE BRIGHT TERKPER TELLS INVESTORS
Ghana's economic outlook points to "a stable and bright future", Finance Minister Seth Terkper declared yesterday, calling on investors to take advantage of opportunities in various sectors by partnering government.
GHANA, IVORIAN OFFICIALS TO MEET FEB 17
Ghanaian officials and their Ivorian counterparts are scheduled to meet on February 17 to start negotiations on delimiting the maritime borders of the two countries.
GHIPPS PROPOSES E-ZWICH TO FIGHT PAYROLL FRAUD
The Controller and Accountant-General's Department (CAGD) must take the lead in the adoption of the e-zwich payment system for public sector workers if it is to eradicate the rising incidence of payrall fraud, Archie Hesse, Chief Executive Officer of the Ghana Interbank Payment and Settlement Systems (GhIPSS), has said.
RAWLINGS MURDERED OUR DAD! - UTUKA KIDS CRY
The children of Major General Edward Kwaku Utuka, an army officer who was executed during Jerry John Rawlings' 1979 military putsch, have taken a swipe at the former President over his recent justification of the killings that took place under his leadership.
MINISTER OKAYS TEMA DEMOLITION
Minister of Lands and Natural Resources, Inusah Fuseini, has thrown his weight behind the demolition exercise by the Tema Development Corporation at Adjei Kojo near Tema which has left many families  out in the cold weather.
770 WIVES BEAT HUSBANDS IN JUST ONE YEAR
Seven hundred and seventy (770) women were reported to have beaten up their male partners nationwide last year.
ADR CRIES FOR FUNDS
Lack of funds and professional mediators are negatively impacting the work of the Alternative Dispute Resolution.
Economy Times
AUTOMATIC ADJUSTMENT PROGRAM THREATENS GOVT'S INFLATION TARGET
The government's automatic adjustment program for fuel and utilities may threaten some of the macroeconomic indicators set in the 2014 budget.
GSE AWAITS MORE LISTING
Activities on the Ghanaian bourse will start to pick up this year as the Ghana Stock Exchange (GSE) awaits more listing on the exchange.
GRA WARNS PUBLIC AGAINST RECRUITMENT FRAUDSTERS
The Ghana Revenue Authority (GRA), Customs Division has sent a strong warning that it will deal with individuals who extort money people by posing as recruitment agents for the Authority.
Daily Heritage
FARMERS, SAMIA GROWL OVER GMOs, AS SPEAKER SUSPENDS DEBATE ON PLANT BREEDERS BILL
The controversy surrounding genetically modified  organisms (GMOs) is unlikely to come to an end any moment from now as the Speaker of Parliament, Edward Doe Adjaho, has taken up the matter for investigations
TERRORIST ROBBERS REMANDED
A Koforidua High Court on Tuesday remanded a seven-member robbery gang, suspected to be behind series of robbery attacks at the  Koforidua Government Hospital, into prison custody on Tuesday.
SWINE FEVER NOT HARMFUL TO HUMANS
The Ashanti Regional Veterinary Officer, Dr Kwansah Filson has debunked rumours that there is human health risk associated with the African Swine Fever even though there is no vaccine nor treatment.