Flying Start supports Ghana's children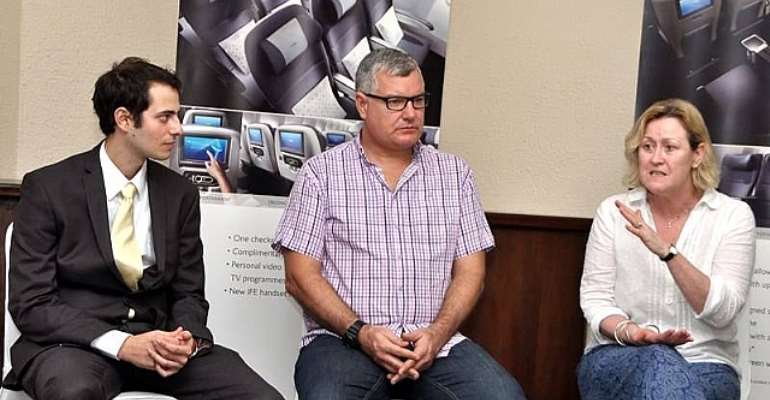 Accra, Jan 28, GNA- British Airways and Comic Relief's flagship charity program 'Flying Start' is supporting underprivileged children in the Upper East Region by providing them with education and vocational skills to overcome poverty.
The project, which is being carried out through Afrikids, a child rights organization based in Bolgatanga and which works to improve the lives of vulnerable and disadvantaged children, is a reflection of Flying Start's commitment to supporting communities worldwide.
Mary Barry, head of British Airways community investment programmes, told journalists in Accra that the partnership between BA and the UK Charity Comic Relief was a good fit as both organizations were committed to helping the underprivileged BA in the communities it flies to and Comic Relief in the UK and worldwide.
The three -year partnership, under the name 'Flying Start' was therefore aimed at giving at-risk children a 'flying start' in life by equipping them with the requisite educational or vocational skills or any other assistance that they might need.
Ms. Barry made the statement when a team comprising some young executives of BA and representatives of Comic Relief visited Ghana to inspect the Afrikids project and to shoot a film that would be used to raise funds for the project.
She stated that so far, flying start had raised over 6.6 million pounds, which had been used to fund projects in the communities where BA operates.
Ms. Barry said the airline had brought some of its young apprentices and executives to visit the project because it believed in the need for them, being the future of the airline, to understand that it wass not just about core business but how they truly invested in and build partnerships in the communities they fly to.
It also gave them, as fund raisers, the opportunity to see how the funds they raised were used and the impact that it was making in the lives of young people in the communities.
'BA has also funded some Ghanaian students living in southeast London through its flight bursary to come to Ghana to see their heritage and also taken some to the United States to participate in the young black leaders' programme where they were introduced to some influential people who have inspired them immensely' she said.
Mr. Terry Mills, Account Director at Comic Relief, stated that in Ghana, flying start had funded and is still funding several projects across the country.
In 2012, the project funded a vaccination programme in the Greater Accra Region where about 500,000 pounds was raised to vaccinate 100,000 children against childhood diseases.
He said this year it was funding Afrikids to support children in the Upper East Region adding that the team was to shoot a short film which would be shown on board all BA flights from April 2014, to help raise funds to support the project.
Explaining how the partnership worked, he said the fundraising was done by British Airways through on-board donations by passengers and charity events.
The money was then given to comic relief, which in turn provides grants to selected organisations in communities where BA operates, such as Afrikids to improve the lives of the people.
Afrikids, which has a UK arm, aims to be self-sufficient by 2018 and closing down its UK arm. He assured Ghanaians that the film was positive one as there was a lot being done at Afrikids by its local staff.
They also emphasized the important role their customers played in raising funds, stating that out of the 6.6 million pounds that had been raised so far, four million had been raised through on-board donations from their customers while 2.2 million was raised on ground by their young executives and assured that the comic had a robust and efficient system of ensuring that grants disbursed were used for their intended purposes.
Flying Start also has projects in Sierra Leone where they are encouraging social enterprise as well as other countries worldwide.
'The whole idea is about getting young people up to a ladder where they can achieve and be successful. There are talented young people across the globe, it is just about getting the opportunity' Ms. Barry said.
GNA