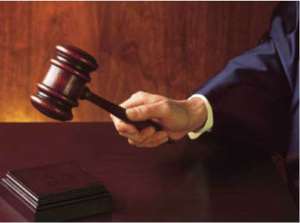 I was not in the least either surprised or amused at the front cover story of the Monday 20th January edition of this paper captioned '' 7,000 FOR PRISON''. This was not out of any lack of concerns and worries for the challenges confronting our criminal justice delivery system and the fundamental human rights of those who come into conflict with our laws.
Rather, my seeming insensitivity stems from my professional impressions of the gross systemic and institutional failures of the stake holder participants of our criminal justice delivery in this country, coupled with the tacit professional indifference, ignorance, the lack of foresight and the political will in reforming our criminal justice system in line with International standards and best practice.
It is this level of gross indictment on the key players on the turf of Ghana's criminal justice delivery that will be responsible for accentuating my 'cold turkey' attitude. Clearly, our criminal procedure code that regulates our criminal justice delivery was fashioned on that of our colonial masters-the British Criminal Justice Legislation, which has for several times and on many occasions responded to the understanding and appreciation of modern criminology-one that acknowledges and values punishment as a framework for the rehabilitation , reintegration and the resettlement of the offender.
Yet Ghana's criminal justice delivery system with its archaic, outmoded and anachronistic criminal procedure code has stopped at imprisonment or custodial sentencing and financial penalties /fines as the only options for sentencing of convicted persons. Not even the UN Minimum Standards for the treatment of prisoners and for the sentencing of minor offences have made any sense or drawn the attention of either penal policy makers or practising professionals and indeed those who should have known better, in responding to the challenging needs for appropriate and relevant reform.
Strangely however, what has become the stock in trade was the empty long speeches, rhetoric and the cataloguing of the short falls of the system .The prison overcrowding phenomenon that has characterised our criminal justice system should be enough to draw professional sentiments and concerns in responding to the urgent necessity to undertake penal reform in a more pragmatic, holistic and meaningful way than the hitherto myopic 'Justice for all reform'' mechanism that lacks any theory base and fell short of devising a meaningfully professional framework that could have brought in professionals such as clinical psychologists, community nurses and social workers with the requisite skilled expertise and experiences for the resettlement of prisoners back into their communities.
Advertisement
It should have been an important element of the initiative to provide the professional mechanisms for these practitioners to undertake the required and needed needs –led assessments of the needs of the prisoners being considered for released back into their respective communities. There has been no doubt that most of these prisoners deserved to be released given the circumstances under which they were incarcerated, as a majority of them were pre-trial prisoners or prisoners on remand and were awaiting due trial for over a considerable lengths of time.
My view has been that these failures and lack of professional approach to service delivery and best practice undoubtedly undermined the credibility of such an intervention programme if it were credible at all. Interestingly the Offender Management and Rehabilitation Organization (OMRO) has been at the forefront of the advocacy for penal reform agenda in this country since October 2007, and has on several occasions through its media work set up the stage for our criminal justice reform agenda debate. Unfortunately, all attempts at getting stakeholder institutions to collaborate and partner with in driving this agenda is yet to be realised.
A criminal justice reform agenda that should have focus on developing alternatives to custodial sentencing, particularly for minor offences or misdemeanours as pertains in the criminal justice system of a jurisdiction-(British criminal justice delivery system) from which Ghana has tailored its penal policy. It is a penal policy paradigm that provides for community sentencing- involving community service/community pay back, restorative justice, mediation and offender-victim conferencing that empowers victims to reach closures.
It is an intervention approach to be supported with the relevant and appropriate structural framework that empowers qualified probation officers to provide intervention programmes to address the criminogenic needs of offenders for the rehabilitation, reintegration and the resettlement of those who have brushes with the law. It is this prudent and credible approach to criminal justice delivery system that reflects the understanding and appreciation of modern criminology and one that promotes the prevention of offending, reduction of the risks of re-offending, public protection and public safety.
The indications picked up by the end of last year, 2013 that government is considering a criminal justice reform bill to be placed before parliament this year -2014, is definitely a relevant and appropriate response to the dilemma of Ghana's prison overcrowding and the failures of our criminal justice delivery system. Certainly, this should not focus only on the swift administration of justice, but as line with best practice globally, must give due considerations to addressing the challenges of our sentencing policy and framework .It is this focus that should be ''the New Agenda '', for any pragmatic, prudent and credible penal or criminal justice reform in our country.
The writer a social care and offender management and rehabilitation consultant is also a penal reform advocate. For further details contact [email protected] / 0248 416 287.