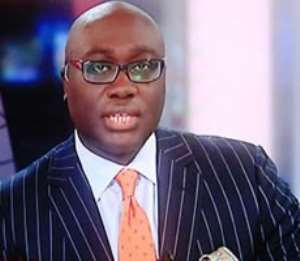 Komla Dumor ---  The Man with the MIDAS touch
How can Komla be gone when my family and I watched him with admiration on Friday night, on what was to be his last show as host of 'Focus on Africa'? How can Komla be gone when earlier that day he had exchanged text messages with my wife to confirm that he will serve as a moderator for the upcoming Conference of Ministers of Finance of Africa, for which my wife is one of the coordinators, on behalf of the UN Economic Commission for Africa?.  How can Komla be gone so soon?
I first met Komla Dumor when my late brother, Edmund Ofori Ayeh, was brutally murdered by rogue elements of the Ghana Army at the Next Door restaurant in Accra in the year 2000. On the advice of close friends and family, I went to Joy FM news and met with Komla, who immediately agreed to use his Morning Show as a platform to put the reprehensible act by the soldiers in the public domain. The sympathy that Komla had for our family tragedy, the evangelical passion with which he took up our cause, and his promise to take the matter up as a personal crusade (as his family had suffered a similar tragedy during his youthful days in Nigeria) immediately endeared him to our entire family. 
Our paths were to cross again in Paris at an Organisation for Economic Cooperation and Development (OECD) event on Africa, for which Komla served as a moderator and I, a panelist. Our stroll on the streets of Paris that evening started a personal bond and a long friendship that existed until his untimely passing. I used that occasion that evening to invite Komla to come to Addis Ababa to moderate an International Convening on Commodity Exchanges in Africa that my organization was organizing.  True to form, Komla did not disappoint when the time came. His golden voice, his meticulous research and preparation for the event, his charm and commanding presence, his humour, and his adept moderation of the event made him a darling of all the participants.  Komla was subsequently to come back to Addis Ababa on several occasions, where we had the opportunity to socialize and to intimately discuss our shared passion --- Ghana and Africa's development transformation.  Our last get together was at the Sheraton in Addis Ababa during the 'Mo Ibrahim Weekend' in November 2013.
Komla Dumor represented the finest in everything that is truly Ghanaian --- hardworking, intelligent, affable, a deep love for his country, a passion for political discourse and social justice, and entrepreneurial. With these attributes, his persona and sharp brains, his meteoric rise at BBC came as no surprise to those of us who knew him well. Komla's life and achievements were an inspiration to many Ghanaians and Africans.  Komla was a man destined for greatness.  He left this world too soon for his dreams to come to fruition.  
Advertisement
Our hearts are heavy with sadness and deep sorrow.  Death is always a painful loss, but some deaths are cruel! Death has robbed us of a talent, a gentleman, a budding statesman, an exceptional human being, a patriot, a consummate professional, a pan-Africanist, and a quintessential broadcaster. Death has robbed us of an illustrious son of Africa.  Komla was a true 'Ambassador' of Ghana and Africa to the World.
Komla, we will miss you dearly.  We will miss your captivating smile, your deep love for our country and our continent, your inordinate love for humanity, and everything that made you such a dear friend and brother.
We extend our deepest condolences to your lovely wife, your young children and indeed your entire family.
Damirifa due,  damirifa due………baba na wo,   hede nyuie
May His Soul rests in perfect peace
Dr. Eugene Owusu, the UN Resident Coordinator in Ethiopia Addis Ababa