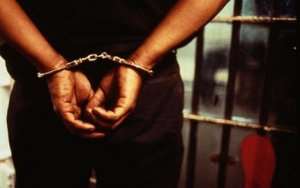 The father who confined his five children in their home for three years ahead of Christ's second coming has been arrested by the police.
This was revealed by the Hohoe Divisional Police Commander Edward Otumi on Eyewitness News on Thursday.
The children had been confined in a room because according to the parents, they might be influenced by the outside world to miss Christ's coming.
According to him, the police was "unable to arrest" the mother of the kids because she escaped. He however assured the public that she will be arrested.
He also mentioned that the Social Welfare division has been contacted to take custody of the kids.
The first child according to reports is 14 years old and the last child is 3 years old.
He also added that further investigations will be carried out to ascertain the reason behind the acts of the parents.
Meanwhile the project coordinator of Integrated Development and Empowerment Centre (IDEC) a partner of Plan Ghana, Mr. Manasseh Ameworyo who confirmed the story said his outfit has given the kids "a temporary shelter" although they are in police custody.
On the other hand, a child rights activist Bright Appiah believes that this manifestation "is a clear indication of things we have to do to protect the interest of children within the family. And how we can safeguard the family environment for the well-being of children."
He admitted that although government as well as the extended family has a role to play in taking care of children, the greatest responsibility lies on the nuclear family.
By: Winnifred P. Ndamse/citifmonline.com/Ghana