MY COMPLAINTS AGAINST PUBLIC MORTUARIES IN GHANA
Ghana Public Mortuaries must be improved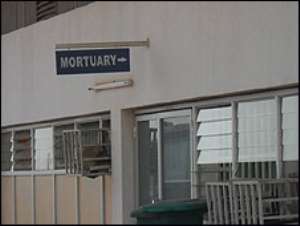 In 1989,I and my children went to collect the body of my wife, "L" from the mortuary of the old hospital at Ho in the Volta Region for burial. When the body was removed from the refrigerator, it was dropped on grassy floor before transferring it into the coffin. We were shocked and saddened by the remorseless manner in which her body was handled by the mortuary staff. My daughter cried and I protested but it was no use because other families also were anxiously waiting to collect the bodies of their love ones We were also getting late to take my wife's body from Ho to her village 40miles away.
The experience at Ho obviously left a lasting bitterness in our minds and hearts throughout the process of our bereavement..
A second similar incident which was witnessed by my close family members took place in Tema general hospital mortuary in 1998 They went to the mortuary to prepare the body of my brother,"L" for burial in our village..On their arrival, they found my brother's body laid on a drenched mat on the floor.The only reason given by mortuary staff to my grief stricken relatives was that the mortuary's refrigerator broke down.
That incident also left a lasting feelings of self- reproach and guilt for the mess in which his body was kept in the mortuary.
,
Although the above incidents happened long ago in two deferent hospitals, the situation has not improved
because the same family memmbers have once again witnessed another upsetting incident on the 13th September 2013 in Koforidua mortuary.
On that day,my relatives went to prepare the body of another brother, "W" before transporting his body home for burial.When his body was taken out of the refrigerator, the saddened waiting relatives saw his body dragged on the floor and left out side No complaint was made to mortuary officials.But when I was informed about the latest incident which took place in Koforidua mortuary, I decided to write and to protest against the evil practices taking place in public mortuaries I hope other families who have had similar incidents involving their loved ones body to join in to make our feelings known to Health officials for prompt action.Because the body of the deceased person also deserves to be treated with respect, dignity and utmost sensitivity.
Herman Kwame Afele
[email protected]