President Biya loses control of Cameroon (a commentary on Biya's end of year speech)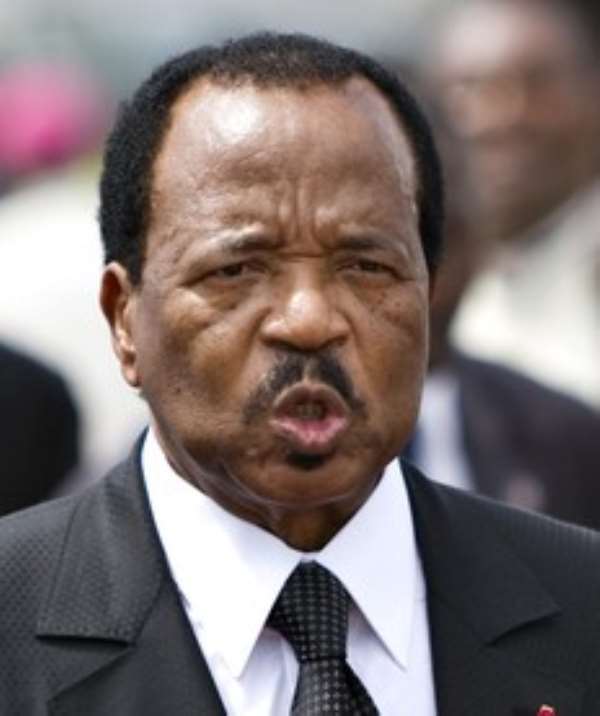 President Biya of the neocolonialist Republic of Cameroun made his end of year 2013 speech to Cameroonians, without lifting their spirits, which have been dying for 32 years of his being in power.
End of year speeches, If you wish, State of the Union addresses should clearly point to citizens of a country the direction the country was taking. The 2013 end of year speech in Cameroon, regretted wrong political and economic routes taken by Cameroon so far, without charting a clear path for the country, in the near future
of 32 years of Biya in power in Cameroon. His New Year eve speech left Cameroonians wondering whether they wanted to spend one more minute with Biya at the helm.
Biya celebrated the positive strides of Cameroon's electoral process considering it as some progress in the country's democracy. To him the senatorial elections of 14 April 2013 and the legislative and municipal elections of 30 September were real success stories in Cameroon's democratic process.
Wide ranging reports from all observer missions not paid by Cameroon government conclude that the elections were fraught with irregularities, fraud and rigging. The electoral code was not respected at all. Cameroonians did not have a free hand in the selection of their candidates, as the central investiture commissions of the parties, both ruling party and opposition imposed candidates on militants.
The North West Region, predominantly militating in the Social Democratic Front (SDF) saw only CPDM senators imposed on the region. The SDF was given senators in the West and Adamawa Regions which do not represent the party nor the aspirations of the electorate of the party. All the other appointed senators, 30 of them did not have a single member of the opposition nor people representing the unrepresented in parties.
Legislative and municipal elections also witnessed some irregularities as candidates went out sharing tons of rice to potential voters. The electoral code of Cameroon proscribes motivating voters with gifts.
Biya has a way of putting the cart before the horse. Though he claims the senate and parliament are harbingers of the Constitutional Council, none of these legislative arms legislates for Cameroon as all laws and projects are drafted by the executive, the ruling Cameroon Peoples Democratic Movement (CPDM).
According to Biya, the silver lining on the cloudy political horizon of Cameroon has given way to great expectations of a bright future.
Serious debate is expected in parliament and senate. Yet, the session of parliament ending the year ended in a deadlock, as senate did not table its budget for debate and adoption. Bills were tabled in parliament piecemeal, depriving the members of parliament of their careful perusal and proposals. The municipal councils or municipal assemblies are still to rise up to municipal legislators deciding what they want to do or how they want to do it. Most of these supposed representatives of the people of Cameroon, sent messages of support to President Paul Biya, thanking him for renewing confidence in them and sending them to senate, parliament and the councils.
Biya expects Cameroonians to start active reflection on the problems that have besieged them. Buying power, jobs and living conditions!
Unfortunately, the fiscal policies of the country do not augur well for a better standard of living and job creation. Cameroon seems to design and device new taxes every year. The administration sees the anaemic populations as a fat cow they can keep milking forever. The poor have been bled repeatedly and continuously to transfuse the moribund administration, that Biya himself describes as ineffective. Custom duties are still very high. The cost of petroleum products in Cameroon is bedeviled by 60 percent taxes. There is duplication of ministries and some supper civil servants accumulate functions and positions of authority.
Biya talks of a just society that shows solidarity. Justice in Cameroon depends on the size of your purse. You can buy your way out of any situation even if you were guilty. The only crime you may not be able to buy your guilt is eyeing the Presidential stool of authority. Once you challenge Biya you are bound to end up in prison.
How could Biya talk of solidarity when some minorities; Anglophones, Mbororo, Baka pygmies are classified as third class citizens? An Anglophone can never become the Minister of Finance, Minister of Armed Forces, Minister of Territorial Administration and Minister of Justice. There is an unwritten code that these positions would never revert to Anglophones.
Biya has been silent since the Senior Divisional Officer (S.D.O) of Mezam Division destroyed 9 houses with land titles on 2 May 2013 in Wumse-Ndzah. No aid or tents were provided to these people rendered homeless by administrators appointed by Biya.
According to Biya, the grim picture of executive failures is tempered by bold strides in the health sector. Malaria, which still ravages children, is brought under control thanks to assistance from international bodies. The map of health establishments is expanding thanks to three referral hospitals in Douala, Yaounde and Sangmelima.
These hospitals are still not affordable to many. The Ministers and directors of health prefer to market drugs donated than to heal Cameroonians for free. Some private clinics like Dr. Daniel Muna Clinic in Douala provide more free treatment to Cameroonians than State-owned hospitals. The medical corps is so insensitive and have become immune to the wailing of sufferers.
Cameroon government is looking for funding for the second generation projects to begin in 2015. The successful projects may be in East Cameroon. For no economic reason or wisdom, Biya has destroyed all the infrastructure of West Cameroon. Cameroon Bank, POWERCAM (generated and distributed electricity to West Cameroon), WADA (produced tons of cereals in Wum area, West Cameroon), PMO (subsidized agriculture and maintained farm to amrket roads) and many other projects like Tiko and Bota seaports which do not need dretching to remove sand. You can not kill part of the country to subjugate it and expect growth.
Emergence by 2035 is another political slogan as there is no real desire for Cameroon to prosper by 2035. Corruption, managerial problems, bad governance, human rights abuses and lack of democratic representation deprives Cameroon of a climate propitious to emergence in 2035. Appointing the wrong people to man technical departments cannot allow such departments to function normally.
Zaccheus Forjindam, a progressive manager who turned CNIC's share capital from FCFA 500 million in 1988 to FCFA 12 billion and an annual turnover of 42 billion, by 2008, is still languishing in jail because he allied with some Biya boys fed up with Biya. Annual growth is still below 6.1 percent. This cannot be encouraging for Cameroon's emergence in 2035.
Every ingredient seems present for prosperity to come to Cameroon; talented people, natural resources and good strategies. Biya wonders aloud the reasons for Cameroon economic stagnation. The reasons are of course political. Decision making and management of resources for the general interest of the community is a problem that has saddled the development of the country.
Development projects are hardly executed above 50 percent before the end of the financial year. Why is there such under execution?
These rhetorical questions from Biya, present him as somebody who has lost control of the troops he is commanding and is bound to lose the war for progress, security and emergence. No other Cameroonian is better placed to do a diagnosis of the problems bedeviling Cameroon and proposing solutions, better than the President.
Since Biya came to power in 1982, Nigeria has had over six different presidents, USA had Carter, Ronald Reagan, Bush Senior, Clinton, Bush Junior and now Obama (6 different presidents; France has had Valery Giscard D'Estaigne, Mitterand, Chirac, Sarkozy and Hollande (5 different presidents). Mitterand barely managed to crawl to the end of his second term and died a few months after.
Is Biya made of some special steel? Why does he think that he has the best brains to think for over 20 million drunken Cameroonians? Do I need to remind Biya that he is the problem in Cameroon and not a solution to the ills he always scientifically analyses?
Can Cameroon not do what others at its level are doing? Tchad has been at war for over 30 years. A few years after discovering petrol, Tchad is making strides economically and infrastructural wise. Roads are going up every day. Equatorial Guinea which just discovered petrol is moving at breakneck speed and even stops Cameroonians from living in the country. Roads, airports, hospitals are now comparable to Northern Africa. Nigeria, next door, in spite its many military dictatorships, managed to build a modern capital from scratch in Abuja. Abuja has nothing to envy some European cities. Cameroon administrators and Biya travel around the world and elect to live in the best places without wishing to copy from those places.
Roads in Cameroon still resemble roads in 18 something. From the airport in Yaounde, it is hard to tell whether one was going to a farm or the capital city of Cameroon. Biya finds no inconvenience blocking transport and roads every week he flies out and into the Nsimalen International airport, which is just one terminal.
We have the talented and ingenious men, women and youth. They have created a niche for themselves abroad. Once home, the destructive forces on the ground in Cameroon will always try to frustrate them. The natural resources have been mortgaged. That is why Biya is still auctioning hundreds of thousands of hectares of land to multinationals without asking what the country will be losing.
The ethnic tendencies in Cameroon are not just a reflection of attachment to ones area of origin but negative tribalism, which sees the other-liness as the enemy in the house. Anglophones have been presented by top ranking Biya supporters as enemies in the house without Biya reacting to sanction them. Anglophones have been threatened by serving ministers for expulsion from Yaounde if they dared oppose the Biya regime without condemnation from Biya. Minister Mama Fouda wrote the famous letter from Mfoundi elites in 2008 threatening to chase Anglophones with clubs and local weapons.
20 years from the Rwandan genocide that claimed nearly one million moderate Hutus and Tutsis, Biya supporters still behave like some Cameroonians do not belong in Cameroon once they challenge Biya.
Cameroon public administration lacks patriotism and integrity. There is no love and respect for the commonwealth. Cameroonians behave like they will go and continue living elsewhere after plundering the country. Those plundering the country are all from the same region, and Biya knows this. Tribalism militates in his choice of his ministers and directors.
In a country of over 250 tribes (CABTAL) with 60 ministers from 10 regions, the Centre and South regions (2 tribes) have 30 ministers. Of all the former ministers in prison, 90 percent come from these two regions. Biya would still be appointing people from the same area into his new government. Even people who have tarnished their records are promoted simply because they come from Biya's region and speak his language.
Biya's boys are building personal edifices which are larger than the ministerial departments they are managing. Some have built industries in foreign countries and have expatriated funds to foreign banks. It is always personal interest that rules Biya's administrators. Some will prefer to look the other way while the country is liquidated. How will one minister auction 73,086 hectares of pristine rain forest, home to over 40,000 Cameroonians? This minister is still a super Secretary General at the Prime Minister's office where he wields more power than the prime minister.
Wherever there is an Anglophone minister, there is a powerful Francophone super Secretary General who calls the shots.
Security captured President Biya's attention in his speech. Urban crime, highway men in villages and cross-border incursions characterize the main threats to national security. Ministry of Defense has the second largest budget in Cameroon. Hundreds of billions are budgeted to keep the security forces. Many elite squads have been created with many of them specialized in the personal security of the Head of State and his family. Just one family. Most of our villages are left to themselves and mob justice is the order of the day. Many police and gendarmerie controls on the roads are mounted just to collect FCFA 500 from transporters. Traffickers in persons and goods have a free ride once their driver can thrust a few cents in the hands of police and gendarmes on the highways.
Boko Haram has been capturing European tourists and missionaries on the Cameroonian soil and it is always a surprise to the authorities. When the administration perpetrates injustices against minorities and indigenous peoples, they do not gauge the negative causes they are accumulating.
We have been reporting the attempted dispossession of the Mbororo of their lands in North West Cameroon and having no reaction from the Cameroon government. These same Mbororo have threatened importing Boko Haram or Al Qaeda of the Maghreb into Cameroon to defend them. The authorities claim that can never happen. Boko Haram seems to identify its targets. The next time it might be the Archbishop of Bamenda who is targeting Mbororo lands for expropriation.
Security can return to Cameroon if justice, solidarity, equity and the rights of the people are respected. Economic growth can be triggered by practicing positive fiscal policies. Biya strategists know this and they have the means to do it.
It now seems Cameroon is too big for Biya to manage. Southern Cameroonians have been clamouring for their self-rule and self-governance. Yaounde and Biya behave like nothing is happening.
The reunification of Cameroon is a sham. That is why it never captured the attention of Biya in his end of year speech.
Fon Christopher Achobang
Social Commentator, Human rights activist
Mbengwi County
The Cameroons