President Kufuor Wants To Kill Me - Gen. Mosquito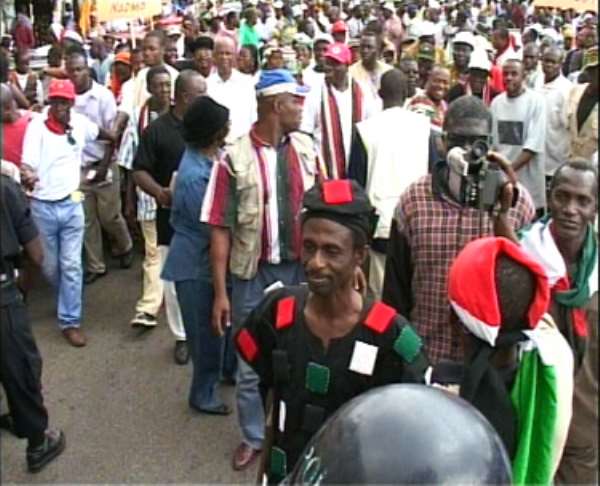 The Member of Parliament for Wenchi West, Mr. Johnson Asiedu Nketsia (also known as General Mosquito) has accused President Kufuor of threatening the lives of four MPs of the NDC including him. This he said was because "we are too outspoken and always condemn bad policies of the majority in Parliament, which we think can affect the lives of Ghanaians".
Speaking at a fund-raising ceremony and opening of a new local party office at Nsuatre, Mr. Asiedu Nketsia said they could not be daunted by the President's threats, to speak the truth or serve the nation. "None of the NDC leaders is afraid of the intimidations, harassments and human right abuses in President Kufuor's administration," he told the crowd.
He did not mention the names of the other three MPs whose lives he claimed were being threatened but said this actually started when they began to comment on the "the horrific and unbearable conduct of some NPP members of Parliament especially, Hons. Bamba and Benjamin Osei Kuffuor, (MPs for Wench East and Asunafo North respectively.
According to him, President Kufuor was the brain behind the appalling behaviour of some MPs and Ministers, adding: "If Kufuor does not come out fearlessly with the Bamba issue for appropriate sanctions, NDC would always regard him as the most dishonest president since independence.
The MP said the murderers of the Ya-Na and 40 others would be detected only when NDC recaptured power in the forthcoming elections. He expressed disapproval of the panel that composed the commission of enquiry into the Dagbon crisis, saying the Commission neglected to call certain personalities who could be key witness.,
He mentioned the former BNI director, Mr. Owusu Fordjour as one of such persons who could have helped the Commission's investigations, but was totally ignored. The Bong Ahafo Regional Chairman of NDC, Alhaji Collins Dauda cautioned Ghanaians not to repeat the mistake of 2000 by voting the NPP into office for another term.