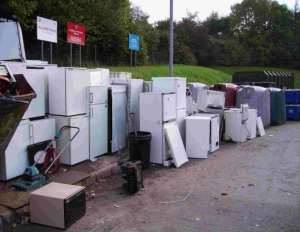 The Energy Commission of Ghana has ordered a British waste management company, EnviroCom, to re-export 57 containers of banned refrigerators it illegally imported into the country within seven days.
The government on January 1, 2013 banned second-hand and inefficient refrigerators which have the ozone depleting gas, chlorofluorocarbons (CFC). Such fridges release into the environment toxic substances such as metal lead, chemicals such as phthalates as well as chlorinated dioxins known to promote cancer.
The Executive Director of the Commission, Dr Alfred Ofosu Ahenkorah, told a section of the media that the company, which calls itself the UK's largest electrical re-use and recycling company, defied the ban and advice of the government to desist from exporting the items to Ghana.
He explained that EnviroCom http://environcom.co.uk/ could be surcharged and ordered to disassemble and recycle the consignment if it failed to comply with the seven-day re-export ultimatum, which was issued out in a letter sent out on December 19.
The Energy Commission has already impounded 2,000 refrigerators from the Takoradi port alone which it had disassembled and extracted the CFC gas from, separated the remains into aluminium and copper and recycled for other uses.
Dr Ahenkorah added that 400 refrigerators had also been seized from Tema with additional 300 expected shortly to be recycled at the Kwabenya collection and dismantling yard, where old refrigerators are sent for safe removal of CFC gas and government sponsored discount vouchers given out to subsidise new ones.
The Minister of Energy and Petroleum, Mr Armah Kofi-Buah, said at the same programme that the refrigerator rebate and turn-in scheme had been scaled up to cover the entire country.
It is estimated that for every efficient refrigerator introduced, an average of 500kWh a year would be saved.
The energy minister said refrigerator mechanics in the country had also been trained in servicing, refrigerant handling and safety.
Although the ban came into force on January 1, this year shipments that pre-dated the ban were allowed into the country.
The British newspaper, the Guardian, however claimed on November 4, 2013 that it had seen documents which showed that the fridges were shipped from Britain to Ghana in August this year, months after the ban came into force.
The newspaper further quoted sources at EnvironCom as saying that it sold second-hand fridges to third parties to ship to Ghana and that it was not responsible for delays during the shipping process.
A study by Greenpeace found that about 75 per cent of second-hand goods imported to Africa could not be reused. In Ghana, dumped fridges and computers were releasing hazardous substances into the environment. These include toxic metal lead; chemicals such as the phthalates DEHP and DBP, which are known to interfere with sexual reproduction; and chlorinated dioxins known to promote cancer.
Ghana, the first country in West Africa to introduce the ban, is bent on seizing the banned fridges once they arrive at its ports.