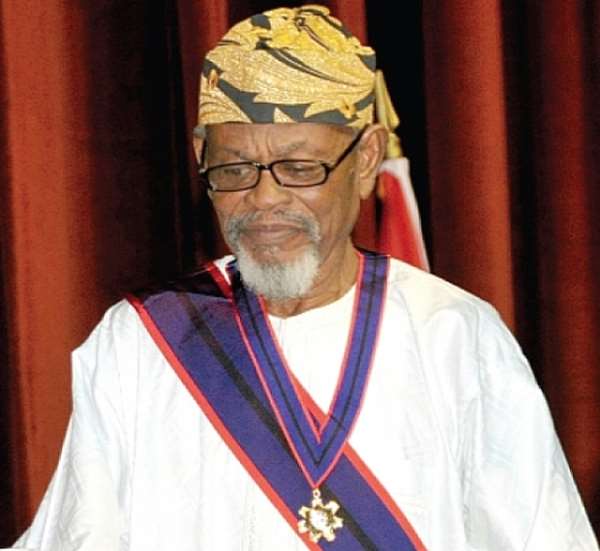 Parliament has paid tribute to the late Harry Sawyerr and described him as a statesman who never forgot his roots in spite of his achievements in life.
Members of Parliament (MPs) who contributed to a statement by the MP for Ningo/Prampram, Mr Enoch Teye Mensah, were unanimous that Mr Sawyerr served his country well and deserved to be honoured.
The Speaker of Parliament, Mr Edward Doe Adjaho, who is an old boy of Accra Academy, just as the late Sawyerr ,read the school anthem in honour of the deceased after which the entire House observed a minute's silence.
He described his senior schoolmate as an honest and selfless man who knew what he wanted.
In his tribute, Mr Mensah acknowledged the fact that Mr Sawyerr was a man of many parts who excelled in whatever position he found himself.
He said Mr Sawyerr was interested in the good governance of the country,  which led him to become the organiser and later the National Co-ordinator of the Association of Recognised Professional Bodies from1971 to 1979.
According to the MP, it was also his interest in good governance made him stand as an independent candidate for the Osu Klottey Constituency and won in 1969.
He again became the MP for the Osu Klottey Constituency from 1979 to 1981 on the ticket of the National Convention Party under the leadership of Mr William Ofori Atta.
Mr Sawyerr was appointed the Minister of Transport and Communications from1979 to 1981 by President Dr Hilla Limann during which time he introduced Tata buses into the country to improve the transportation system.
"Whichever part we care to look at, the Mr Sawyerr bore fruits which have impacted and continue to impact positively on national development,  "Mr Mensah said.
Contributing to the statement, former Majority Leader and MP for Nadowli Kaleo, Mr Alban Sumana Kingsford Bagbin, said  Mr Sawyerr had left an indelible mark in the minds of Ghanaians.
He described him as a unique person,  adding that in spite of his achievements, he remained a unique Ga elder until his death.
"He was a man of passion. He carefully chose his words", he stated, adding that he always showed passion and not anger.
The MP for Subin, Mr Isaac Osei, called on Ghanaians to look at the life of Mr Sawyerr and take inspirations from what he stood for.
The Minority Leader, Mr Osei Kyei-Mensah Bonsu, said Mr Sawyerr served Ghana well and called on Ghanaians to emulate his life and remain committed to the good of the country.
The Deputy Majority Leader, Mr Alfred Agbesi, said Mr Sawyerr's name transcended Ghanaian borders because that he was one of the architects who planned the Abuja City in Nigeria.