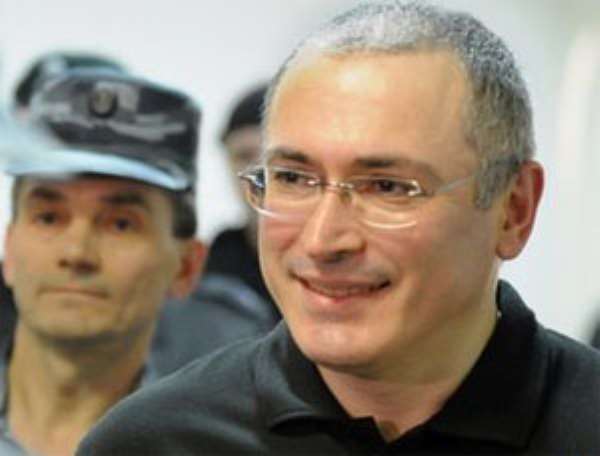 Surprise
Mikhail Khodorkovsky was once Russia's richest man
Former tycoon Mikhail Khodorkovsky has been released from custody following a pardon from Russian President Vladimir Putin, officials say.
Mr Putin signed a decree earlier pardoning Khodorkovsky on the basis of "the principles of humanity".
The president said on Thursday that the former oil magnate had asked him for clemency because his mother was ill.
Khodorkovsky – in custody for a decade – was jailed for tax evasion and theft after funding opposition parties.
The pardon comes after Russian MPs backed a wide-ranging amnesty for at least 20,000 prisoners.
A document published by the Kremlin on Friday said the decree would come into force from the day of its signing.
Khodorkovsky, 50, was freed from custody shortly afterwards, according to prison officials in the Karelia region of north-western Russia.
There is no independent confirmation that he has been released from the penal colony in Segezha, but prison officials told Interfax news agency that he had left at around 12:20 (08:20 GMT).
Khodorkovsky was jailed after being convicted of stealing oil and laundering money in 2010. He had been in prison since 2003 when he was arrested and later convicted on charges of tax evasion.
Mr Putin's announcement on Thursday that his former political opponent had asked for a pardon came as a surprise to commentators.
In a  statement on his website http://www.khodorkovsky.com/statement-from-khodorkovskys-press-centre/ , Khodorkovsky's lawyers said they could not comment on whether a request had been made.
The former head of the now defunct oil giant Yukos, who was once Russia's richest man, had repeatedly said he would not ask Mr Putin for a pardon because it would be tantamount to admitting guilt.
The Kommersant newspaper, citing unnamed sources, said on Friday Khodorkovsky had made the decision to seek a pardon following the threat of a third trial against him.
Amnesty
"I still don't know anything. I'm getting everything from the media. Right now I'm watching it on TV," Interfax quoted Khodorkovsky's mother, Marina, as saying.
She had earlier told BBC Russian she did not know about any clemency request by her son.
The amnesty passed in the State Duma on Wednesday covers at least 20,000 prisoners, including minors, disabled people, veterans, pregnant women and mothers.
Mr Putin confirmed it would apply to the two members of punk band Pussy Riot still in prison and Greenpeace activists detained for their protest at a Russian oil rig in the Arctic.
Analysts say Mr Putin may be trying to ease international criticism of Russia's human rights record ahead of February's Winter Olympics in the Black Sea resort of Sochi.
BBC