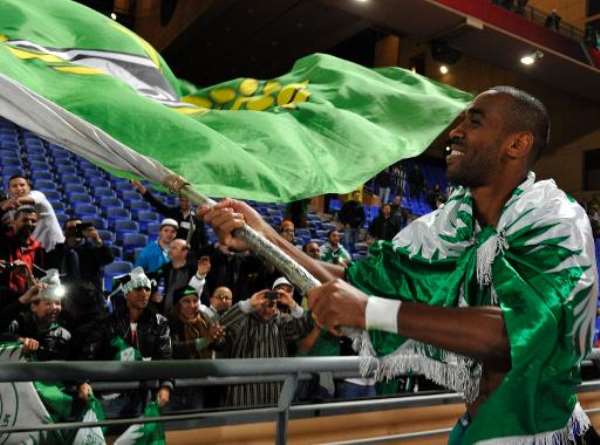 Moroccan club Raja Casablanca's Mouhssine Iajour celebrates with supporters after his side won their 2013 FIFA Club World Cup semi-final against Brazil's Atletico Mineiro in Marrakesh, on December 18, 2013. By Gerard Julien (AFP)
Marrakech (Morocco) (AFP) - Moroccan champions Raja Casablanca were the toast of the nation on Wednesday after they became only the second African club to reach the final of the Club World Cup.
The unfancied side, coached by Tunisian Faouzi Benzarti, struck two late goals in Marrakech on Tuesday to knock out favoured South American champions Atletico Mineiro 3-1 and reach Saturday's final against Bundesliga giants Bayern Munich.
The win meant that Raja equalled Congolese club TP Mazembe who lost the 2010 final against Inter Milan
However, unlike Mazembe, Raja did not even qualify for the tournament, taking part only because they are the champions of the host country -- making their achievement all the more unlikely.
Casablanca-born midfielder Mouhssine Moutouali struck a pressure penalty in the 84th minute to give Benzarti's men a crucial 2-1 lead before Central African Republic international Vianney Madibe capped a glorious night in Raja's history with their third goal deep into stoppage time.
It was another feather in the cap for their 63-year-old coach, who has enjoyed three spells at the helm of his national team and also won the African Champions League in 1994 with Esperance and only took over on the eve of the tournament.
"I have believed in my team since the start of the tournament because they're extremely talented. It was an excellent performance today (Wednesday) in all areas against a strong Brazilian team with fantastic players," Benzarti told Fifa.com.
"It's no accident that we're in the final - it's the product of hard work. My thanks go to our unbelievable fans, their support is immensely valuable to us and we aim to make them happy in return," added the technician who only took over as Raja coach, two weeks ahead of the tournament when M'hamed Fakhir was fired.
"Now we have to recover as quickly as possible before our final preparations for the final against Bayern Munich.
"They're a fantastic team who won three titles last season, and in Pep Guardiola they have a great coach who has already embedded his football philosophy in the team.
"But we'll go into the final with confidence too, believe in ourselves and give our all once more." he added.
For his Brazilian counterpart Cuca, it was a blow for the Copa Libertadores champions, who are playing at the tournament for the first time but must now settle for a third place playoff against Asian champions Guangzhou Evergrande on Saturday.
"We didn't perform well and we never gained control of the match in the way we would have liked," explained the former striker.
"We came back after going behind and pushed for the winning goal in the second half but unfortunately we then made a mistake and conceded an unnecessary goal.
"We threw everything forward at the end and got caught by a decisive counter-attack. We have to accept this defeat and apologise to our fans, who we have disappointed after they made this long journey to support us." concluded Cuca.
For Raja, an unexpected chance to defeat European champions Bayern Munich awaits them on Saturday in Marrakech and a chance to become the first African team to win the year ending showpiece tournament.