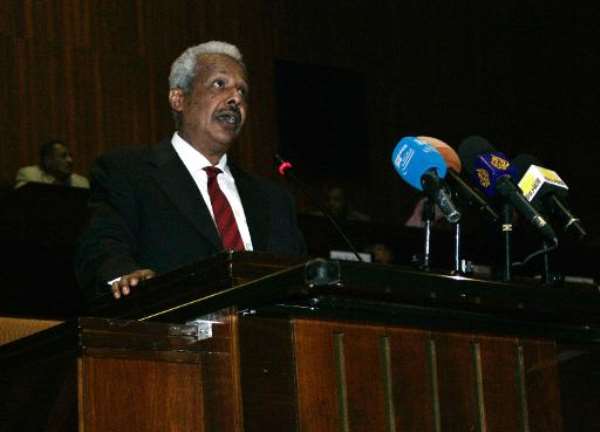 Sudan's Finance Minister Badereldien Mahmoud presents budget figures in parliament in Khartoum on December 18, 2013. By Ebrahim Hamid (AFP)
Khartoum (AFP) - Sudan on Wednesday forecast a widening budget deficit for 2014 despite efforts to reduce inflation after a September jump in fuel prices sparked the worst urban unrest in two decades.
Budget figures presented to parliament by Finance Minister Badereldien Mahmoud show a projected fiscal gap of 12 billion pounds ($2.11 billion).
"We expect revenues of 46.2 billion pounds and expenses of 58.2 billion pounds," Mahmoud said, revealing few other details of the financial estimates.
Next year's fiscal gap compares with a forecast 2013 deficit of about 10 billion pounds. Analysts have said much of that shortfall was covered by the printing of money, a major driver of inflation.
After a mid-year decline, inflation jumped again in October and November to above 40 percent, a level seen early this year.
Weakening of the Sudanese pound was also believed to be a major trigger for the growth in domestic prices early in 2013 as the cost of imports rose, a United Nations Development Programme (UNDP) report released to AFP in November said.
Sudanese have struggled to cope with soaring prices and a weakened currency since South Sudan separated in July 2011 with about 75 percent of united Sudan's oil production.
The lost crude accounted for most of Khartoum's export earnings and half of its fiscal revenues.
In September the public exploded. Thousands took to the streets in protest after the government slashed fuel subsidies, forcing the retail price of petrol up by more than 60 percent.
Security forces are believed to have killed more than 200 demonstrators, Amnesty International said, but authorities reported a toll of less than half that.
Mahmoud repeated to parliament assurances which he made after cabinet endorsed the budget on Monday: it will not include further price increases or new taxes.
But even without a further reduction in subsidies to push up prices, the cost of living is rising and people can no longer cope, a humanitarian source told AFP.
'Daily price rises'
"The prices are increasing every single day," the source said, asking for anonymity.
Analysts said the spontaneous September protests pointed to an urgent need for change by the Arab-dominated regime, which is grappling with ethnic rebellions in Darfur, Kordofan and Blue Nile states, dissension within its own ranks, economic crisis and international isolation.
"Given the intensification of armed conflicts and political discontent, coupled with the creation of new states... the fiscal deficit is expected to widen further in 2013," the UNDP report said.
Analysts say a majority of Sudanese government spending goes on security and defence.
President Omar al-Bashir, who took power in a 1989 Islamist-backed coup, last week swore in two new vice presidents and a partially new cabinet including Mahmoud, former deputy governor of the central bank.
The humanitarian source described the ministerial changes as cosmetic, but an African diplomat told AFP "they seem to be now relying on technocrats to run the show".
They will have to prove themselves with a different approach, the diplomat said, adding: "If it's more of the same, forget it. Won't work."
Mahmoud said projected revenue includes fees Khartoum will receive for exporting oil from South Sudan.
The International Monetary Fund estimated that Sudan's economy would get a boost of about $1.5 billion in 2014 from those fees and a package to compensate for the loss of the South's oil at separation.
If the oil fees were used prudently they could make a large contribution to filling the fiscal deficit, an IMF official has said.
But expenditures also have to be contained while efforts continue to raise non-oil revenue, the official said.
As part of measures designed to stabilise the economy, the government in September unified its multiple foreign exchange rates, a measure the IMF had recommended along with phasing out subsidies.
Mahmoud has not given a figure for projected gross domestic product, but the IMF estimates 104 billion pounds in 2014.
The government seeks to halve inflation over the next year and boost GDP growth by 2.6 percent.
The IMF projects a 2.5 percent rise in Sudan's real GDP next year, down from a forecast 3.9 percent this year.