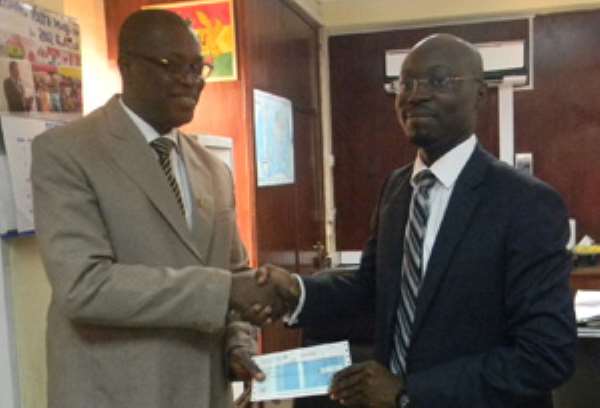 Dr. Dawson-Ahmoah (left) hands over the cheque to Mr Ato Forson
GHACEM has paid a final dividend of GH¢3.6 million to government bringing the total dividend for 2013 to GH¢6.1 million.
The dividend, which represents government's five percent shares in GHACEM, was received by the Deputy Minister of Finance, Cassiel Ato Forson on behalf of Government.
Dr. George Dawson-Ahmoah, Strategy and Corporate Affairs Director of GHACEM, presented a cheque at a short but impressive ceremony at the Finance Ministry.
In his remarks, Dr. Dawson-Ahmoah described the occasion as very important on the company's calendar since GHACEM deemed it appropriate to play its role as a corporate citizen by honouring all its financial responsibilities including the payment of government's dividends yearly.
'We value our shareholders and the consistent increase in the dividend also tells the loyalty at which we honour such obligation. In 2012, we presented GH¢4.4 million and that of 2013 has seen a tremendous increment to GH¢6.1 million,' he said. Dr. Dawson-Ahmoah noted that aside these financial obligations, GHACEM pays critical attention to its corporate social responsibilities, citing the GHACEM Cement Foundation, which was instituted 12 years ago.
They have distributed free cement bags estimated at about GH¢6.5 million to health and educational institutions in deprived communities
Receiving the cheque, Mr. Ato Forson commended GHACEM for its loyalty.
He urged all state-owned enterprises and companies in Ghana to emulate the shinning example of  GHACEM and make prompt payment of dividends.
 
A business desk report