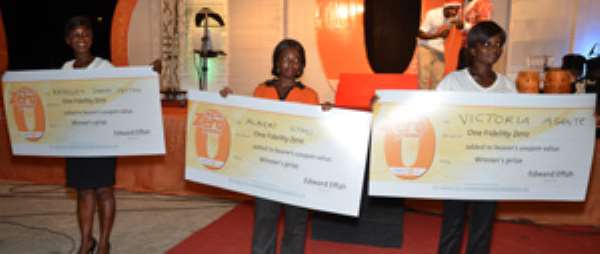 The bank's staff display cheques for the winners

Fidelity Bank Ghana Limited, one of the fastest growing banks in the country, has held its third monthly draw of the much-touted 'Big Fat Zero' promotion.
It was held at the bank's new Airport Branch in Accra last Friday where its Managing Director, Edward Effah announced that the bank had expanded its network to 50 branches nationwide.
Victoria Asante of the Sunyani branch, Albert Otoo, Osu branch and Kingsley James Tetteh of Spintex branch each won GH¢10,000.00.
The final draw is expected to be held at end of the year.
In the promotion, customers are required to maintain a minimum balance of GH¢300 for a month to be automatically selected for a single draw while those maintaining a deposit of GH¢1,000 and above stand the chance of winning big.
Mr. Effah said that Fidelity Bank was pursuing a programme of financial inclusion with a number of initiatives geared to ensure active participation of consumers in banking.
'As a bank, we recognise that it is essential that we empower our existing and potential customers not only to pursue their dreams and aspirations, but also to have the financial means to cater for the basic necessities of life.
He said that 'whilst we offer our cutting edge products and services, this promotion also affords
'Today marks the third draw of our 'Fidelity Big Fat Zero' Deposit promotion, which was started in August, this year. Two previous draws have been held where lucky customers were rewarded with cash prices of up to GHC10,000 for winners and numerous Gold coins as consolation prizes.'
Mr. Effah also said that 'at the heart of the Fidelity Bank story is a deep desire to impact the lives of Ghanaians. These initiatives are critical components of the bank's national development agenda.'
He said the promotion, which is under the general theme, 'A Zero Can Change Your Life,' represents a new idea in consumer promotions in the banking industry.
 
By William Yaw Owusu