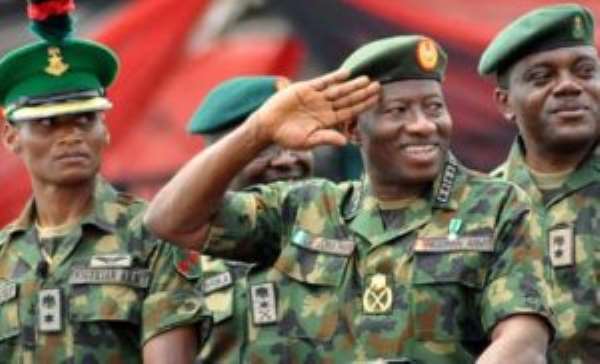 "The search for a scapegoat is the easiest of all hunting expeditions." ― Dwight Eisenhower

Only last week I grimed, could not stop griming, and the irony was that I was not griming with any sense of joy, or happiness, on the contrary, if anything was close, I was griming with amusement, and indeed I was griming with sadness.
Nigerians as usual had reached hysteric levels, the issue was Baba Sege's 18page project like letter that was 'sourced' by my friends in PREMIUM TIMES, as a media personnel, one is tasked with the odious assignment to gather opinions when such matters break, and if you keep your calm, and bias, it helps you gauge the temperature of the nation.
The letter titled "Before it is too late", should have been labeled "it is too late or it will never be late", and that depends on who is doing the reading, and interpreting.
Call them Presidential letter bombs, you wont be far from it, off course with the exception of the really fatal letter bomb that killed Dele Giwa and affected Kayode Soyinka's hearing till date.
The last few years has offered quite a few letters—Let me quickly refresh our memories, there was that letter by Chinua Achebe to then President Obasanjo: refusing the national honour and the Anambra drama of the era. Then there was the Audu Ogbeh letter to Obasanjo; also the theme was Anambra and then Obasanjo's acidic reply.
In case we have forgotten, there's the current CBN letter by Sanusi on NNPC, there were letters by my friend El-Rufai, Ribadu wrote one too, Chief Bisi Akande wrote two, and there were numerous not too popular ones. In times like these I can only say I miss the late Abacha, how many dared write him a letter and stay to get the reply.
My admonition this week incidentally does not dwell on these letters, their contents, the messengers or effects, rather I am bothered about the hypocrisy of all concerned in the drama, which often than not ends faster than it started.
Now before one rattles me on what exactly is my point, and where are the linkages to my point-- Belly No Be Show Glass! I visited my regular free newspapers readers' association, and watched as many Nigerians based on religion and ethnic consideration tore themselves apart over the Obasanjo's letter and his motive, and what should be Jonathan's response.
It was then I quipped in, I asked my friends at the vendors, how many of you have a million naira in your account, one retorted "'milli what', my last money, which was actually for the festive in my account was N7,000.00 (Seven thousand naira only)."
I asked again, if anyone of them lived in neighborhood where throughout the year which ends in some two weeks had water running everyday for at least 40weeks?
How many of us at the vendors could boast of having electricity for 12 hours everyday for 6months of the whole year, even though some of us owed the utility provider a few thousands too?
A sizable number of us where Ministers for power, security, labor, communication, education, name it. We simply provided these services for ourselves in personal capacities.
I asked if anyone and this time, I include you my dear reader, "…know the exact salary of your ward councilman, that is if you even know him/her?"
How many of us know exactly how much a local government chairman earns every month?
Please I beg someone at the top, or below, or in the accounts office, to muster the courage to anonymously put in the public domain, how much Fashola earns, or what exactly in naira and kobo is Isa Yuguda's salary.
In an age when the internet can provide a breakdown of Obama's earnings, a third of Imo State population do not know what Rochas earns, neither do Kano state citizens know how much money the governor spends each time he is on his private investor chase.
How would we not be treated as "class morons" by our leaders, when they keep us by consent captives to their whims and caprices?
I have listened to people say Obasanjo is right, what is he right about, other than fighting their elite war, in his letter he asked Jonathan to refer to my friend IBB, the same IBB that engaged him in the 'bigger fool' newspaper war or the Danjuma, who despises him. Big man and how they often ride on us.
Tell me how the breakfast tasted in Kenya between both men, when many homes are desperately in thoughts regarding how January tuition for their kids would appear.
Do we really think any governor, senator, was really bothered about the six months old strike while it lasted, with their kids littered everywhere from Cyprus to Ghana how would they care.
They say when the elephants fight, the grass suffers, in Nigeria, sadly whether the elephants fight or not, the grass still suffers.
These letter writers never write letters when teachers have not been paid a miserly N18,000.00, they do not write epistles when there was fuel subsidy wahala, they were not writing dissertations because Doctors are going on strike.
They only write each other long SMS when snipers are being trained to eliminate one of them, when Bola Ige died no one wrote any assignment.
They are so vent on 2015, when the ordinary man, needs assurances for next week.
Unable to contain his anger one of the men at the vendors bellowed in a baritone voice, "Belly no get showglass and belly no be showglass."
I asked what he meant, and he said, if only you could see inside the tommy of these leaders, and if their hearts and what they thought could be seen, one would either not bother about them or better still, line them up all, including Jonathan and flog them for failed dreams.
Jonathan should stop playing the victim and get to work, he still has time to make a profound statement with a great legacy if he wants, as for Obj like Dwight put it "The search for a scapegoat is the easiest of all hunting expeditions." ―and to other past leaders, your legacies, successes and failures--keep hunting for excuses: only time would tell.
What Exactly Is The Problem With Nigeria? We... Let's Work At Solving It
Prince Charles Dickson
Yours In High Regards
234-8033311301, 8057152301
Visit: http://amebosayso.wordpress.com http://www.gamji.com/dickson/dickson.htm http://burningpot.wordpress.com/