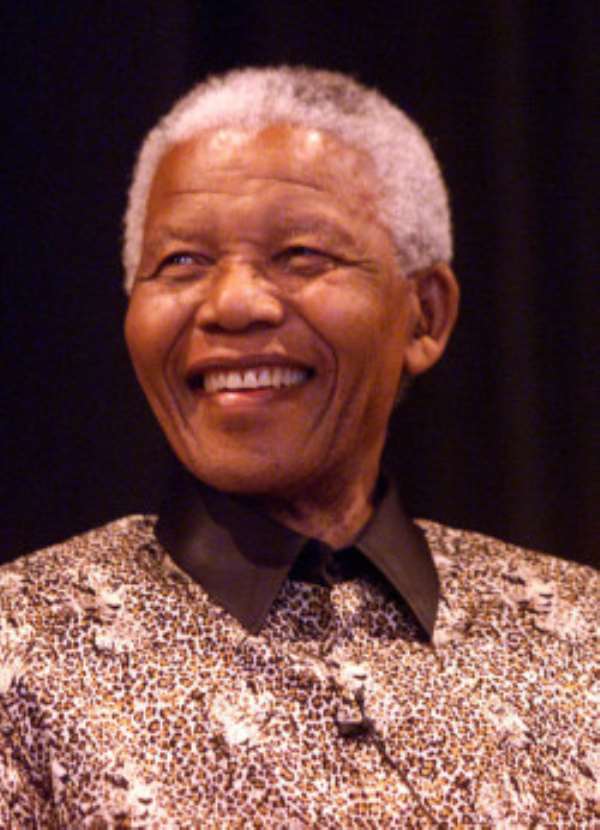 As Mr. Ahmed Kathrada, his longtime fellow inmate at the Robben Island Maximum-Security Prison poignantly put it, in a eulogy honoring the memory of his recently deceased comrade in the protracted struggle against the globally detested apartheid regime, "Madiba united the people of South Africa and the entire world on a scale never before witnessed in history" (See "Thousands Gather to Bury Mandela in His Home Village" New York Times 12/15/13).

While doubtlessly, the claim of Ghana's President Kwame Nkrumah's having rallied Africans around the ultimate objective of continental African unification cannot legitimately be gainsaid, nevertheless, the fact remains that it was President Nelson Rolihlahla Dalibhunga Mandela who raised the conscience and consciousness of the world at large beyond petty and parochial racial and ethnic distinctions into a salutary post-racial and post-ethnic political-liberation struggle where the most salient ingredients were the elimination of grinding poverty, abject ignorance, illiteracy, disease and the unstinted promotion of equity and social justice.
In a real sense, therefore, Nkrumah was a "race man" in the classical African-American sense of the term (See Jabari Asim's What Obama Means), while Mandela was indisputably a "humanistic universalist" or a race-transcending freedom fighter of the first order. In her equally poignant, albeit rather ironic, tribute to the far-reaching and timeless legacy of The Madiba, this was what Ghana's longest-reigning first lady in the twentieth century had to say: "Nelson Mandela was not bound by race or creed or nationality! His magnanimity of spirit, compassion and wisdom elevated him to a position that was not political, racial or religious. He came to epitomize some of the best qualities of humanity and laid the foundation of what should be a way forward for the peoples of not only South Africa, but the entire Global Community" (See "Nana Konadu Eulogizes Nelson Mandela" Graphic.com.gh 12/6/13).
In essence, when we argue that South Africa's Nelson Rolihlahla Dalibhunga Mandela far surpasses Ghana's Francis Kofi-Nwia Kwame Nkrumah in stature, such argument is not to be squarely envisaged in terms of the respective temperaments and/or personalities of these unarguable giants of the postcolonial political firmaments of the African continent, but rather squarely in terms of the demands and pressures exerted on them, and most especially the degree of success to which either personality responded to the occasion or the respective exigencies of their times.
That both Mandela and Nkrumah were veritable products of their times and political climates is incontestable. Likewise, the fact that the era of Mandela's political accession demanded far more expansive and sophisticated psychological and diplomatic skills cannot be reasonably contradicted. What is further complicating this otherwise all-too-simple respective assessments of the yeomanly contributions of Messrs. Mandela and Nkrumah to the shaping of our collective African destiny is, of course, the rather pathetic and inexcusable attempt by the apostles, disciples and sympathizers of the immortalized Ghanaian dictator not to candidly accept the glaring fact of the all-too-pedestrian human limitations of their icon.
The significant contrast here, though, is that during his own time, the relatively far more temporally endowed and mature Nelson Mandela liberally acknowledged his all-too-human foibles and limitations, even while also emphasizing to his people and audience that whatever crimes, errors in judgment and misdemeanors he had committed during the course of his yeomanly career in the protracted liberation struggle against the putatively extortionate and odious apartheid regime ought to be strictly envisaged contextually as such.
Mandela was also not averse to promptly reprimanding the major operatives of his own political organization, the African National Council (ANC), for either forensically provable or widely perceived behavioral and operational excesses. Unfortunately, in the case of the fanatically blasphemous apostles and disciples of Mr. Kwame Nkrumah, all assessments of their man, perforce, and invariably, boil down to the at once curious and bizarre "apotheosization" of the proverbial African Show Boy well beyond his inescapable and fallible humanity, thus the faux-religious and blasphemous mantra of "Nkrumah Never Dies!" and "Kwame Who Uses Chicken Eggs as Head Pads to Carry the White Oppressor Back to His Godforsaken European Homeland."
At any rate, so irreverently and brutishly tagging Mandela as a liar is, to-date, the most scandalous and depraved assault and character-assassination attempt by the so-called vanguard Nkrumaists against the globally revered memory and legacy of the recently deceased South African leader (See "CPP Refutes Allegations of Nkrumah's Refusal to Meet Mandela" Vibeghana.com 12/15/13).
And on the latter score ought to be recalled the fact that Mandela himself wrote in one of his several autobiographies (A Long Walk to Freedom [?]) that during the early 1960s, in the heat of the massive decolonization of the African continent, he had covertly visited the leadership of several newly-independent African countries in search of material support to enable the ANC, South Africa's oldest and largest anti-apartheid political organization, vanquish the racist white-minority regime and had been rudely rebuffed by Ghana's President Nkrumah, an incident that clearly appears to have hurt Mandela to the quick, and may well have left an indelible scar on his psyche.
According to the victim of the Ghanaian leader's snub, he had been categorically informed, shortly upon his arrival in Accra, by Mr. A. K. Barden, Nkrumah's director of the Bureau of African Affairs, that the President was a passionate partisan of the (Robert) Sobukwe-led Pan-Africanist Congress (PAC), because Nkrumah perceived the ANC to be too chummy and unduly accommodating of the globally discredited operatives of the apartheid regime (See Cameron Duodu's "The Unknown Nelson Mandela" Ghanaweb.com 12/7/13).
Now comes the pathologically presumptuous, temperamentally volatile and insufferably obnoxious daughter of the late dictator, Ms. Samia Yaba Nkrumah, vapidly trotting in the decidedly jaded all-purpose Kulungugu Excuse in a patently hollow bid to belatedly saving her deceased father's face (See "CPP Refutes Allegation of Nkrumah's Refusal to Meet mandela" Vibeghana.com /Ghanaweb.com 12/15/13). Too late, and too bad!
What peeves me more than all else, to be certain, is Ms. Nkrumah's insistence, against all provable historical records and common sense, that Mr. Mandela was generously feted by cardinal operatives of her father's so-called Convention People's Party (CPP) government and offered the requisite material assistance when, in fact, according to the legendary and now-immortalized ANC leader himself, President Nkrumah offered him absolutely not a farthing, or even one Ghanaian cedi, during the ten days that Mr. Mandela spent in Accra, literally hat-in-hand, desperately pleading for assistance!
When will this snooty political nuisance learn about this diplomatically savvy word called "apology"? But guess what, even tiny Togo, Ghana's relatively much poorer eastern neighbor and, the latter's equally poor eastern neighbor, Benin, generously contributed towards Mandela's time-proven sacred cause of creating a democratic African-majority ruled post-apartheid South Africa.
Kwame Okoampa-Ahoofe, Jr., Ph.D.
Department of English
Nassau Community College of SUNY
Garden City, New York
E-mail: [email protected]