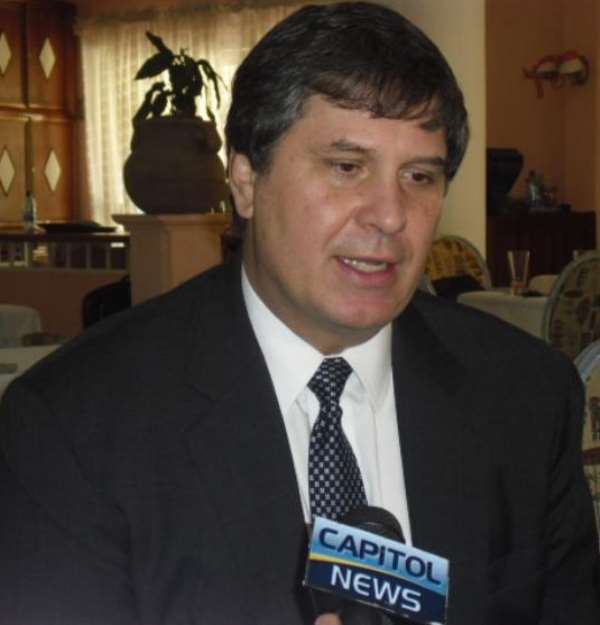 Bruce Wrobel, the former CEO of Sithe Global an affiliate of Herakles Farms dies at age 56.
The disgraced former Chief Executive Officer of Sithe Global Sustainable Oils Cameroon (SG-SOC) alias Herakles Farms had been embroiled in controversies over his corruption and intimidation of local communities in Mundemba, Toko and Nguti to acquire their lands for an oil palm project.
Bruce Wrobel and his Cameroon agents and assigns got the former Minister of Planning and Regional Development, MINPAT to sign an Establishment Convention for the clearing of 73,086 hectares of pristine rain forest in South West Cameroon. The convention agreed in principle to allow the company to do oil palm business in Cameroon for 99 years.
The Establishment Convention gave SG-SOC overriding powers over the Cameroon laws and legislation. In what economists conclude to be sheer economic myopia, SG-SOC was exempted from all import and export duties and fiscal obligations to the government of Cameroon for 99 years.
SG-SOC claimed, even before the Presidential Decree for a concession, that it had been authorized to do business in Mundemba, Toko and Nguti as it pleased.
Local communities woke up to see foreigners going through their forests and planting pillars and beacons without the participatory mapping of the communities. They had never been consulted nor had they given their Free, Prior and Informed Consent (FPIC) to the transformation of their lands into an oil palm plantation.
Communities were going to lose their cocoa farms and many non timber forest products from which they drew more income. For instance, developed land from which local communities made about FCFA 500,000 (US$ 1,000) as annual income from cocoa, SG-SOC proposed to destroy the cocoa plants in exchange of US$ 1 paid to Cameroon government as surface rents.
When opposition to SG-SOC oil palm plantation increased, the company's agents and assigns resorted to corruption and intimidation.
Activists were arrested and detained illegally. International NGOs like Greenpeace International, WWF, Save Wildlife, Oakland Institute were made persona non grata in the host communities where SG-SOC was involved.
Justified pressure caused Cameroonian authorities to suspend the activities of SG-SOC in May 2013.
Even as the suspension was ongoing, SG-SOC continued to log timber in Talangaye, Fabe and Lipenja 1 illegally. This confirmed fears that the company was more interested in logging and other activities than developing an oil palm project.
The President of the Republic of Cameroun finally signed a temporal land concession of 19,843 hectares for SG-SOC on Monday 25 May 2013. This land concession seriously diminishes the grandiose achievements SG-SOC had been claiming to financiers it had made in Cameroon.
Serious doubts already undermined SG-SOC's prospects in Cameroon as local self determination groups protested the auctioning of Southern Cameroons territory by the neocolonialist regime in la Republic of Cameroun.
An American business watchdog group had described Bruce Wrobel as one of the 10 top corporate criminals in the United States of America. He had been fired as CEO of Sithe Global earlier in the year.
The causes of his death are not known. Functionaries at SG-SOC head offices in Limbe, Cameroon are not commenting on the passing of the one person who along with Isisdore Timti masterminded a grim agenda to dispossess the Bima, Batanga, Ngolo, Basosi, Balung and Mbo peoples of South West Cameroon of their ancestral lands.
An environmental disaster loomed huge over the world if SG-SOC had been allowed to do business as it wished in South West Cameroon. The establishment convention granted the company lands in an area considered to be of High Conservation Value. Five Natural parks with some endangered species surround the proposed concession area.
It is not clear how much the illegal activities of the company have led to climate change in this part of the world. The region should already have been in the dry season. It is still raining over most of Cameroon as if the country was in the raining season.
"We are deeply saddened by Bruce's sudden passing. Bruce was a good friend and a true visionary, who had a positive effect on everyone with whom he interacted," said David Foley, chief executive officer of Blackstone Energy Partners. "He will continue to have a lasting impact through the many innovative energy projects he worked tirelessly to develop, and he will be sorely missed by our Blackstone team."
The tributes are not so rosy in the family of Dr. Isisdore Timti, who single handedly pushed SG-SOC agenda through the forests of South West Cameroon. After Timti had succeeded in pushing SG-SOC through all odds, he was refused in seeing his dreams mature after he also died suddenly of unknown causes.
Fon Christopher Achobang
Social Commentator, Human rights activist
Mbengwi County
The Cameroons
Tel, (237) 99365954
(237) 33160489