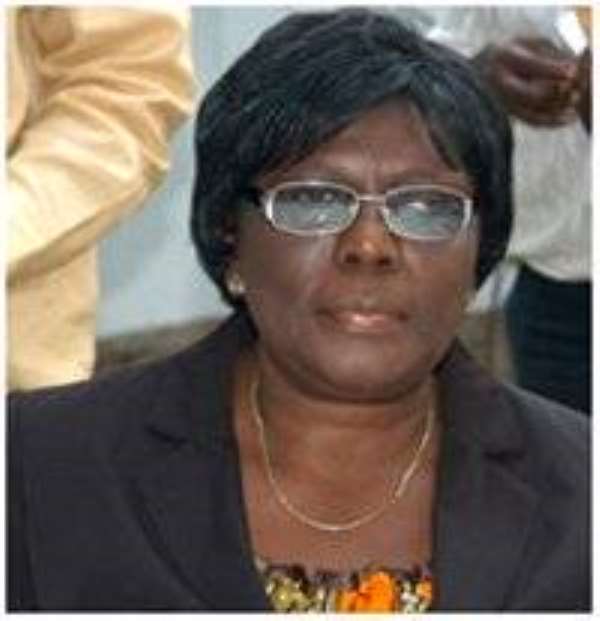 Madam Grace Adzroe
Accra, Dec 12, GNA - Madam Grace Adzroe, the Acting Controller and Accountant-General, has said contractors and suppliers would receive direct payment via electronic transfer under the current arrangement of the Ghana Integrated Financial Management Information System (GIFMIS).
 She explained that under GIFMIS, payment to contractors and suppliers would be made directly to their bank accounts using the electronic transfer system.
Madam Adzroe, who was addressing contractors and suppliers at a seminar on GIFMIS on Thursday, said contractors and other service providers would no longer be issued with cheques.
The forum provided the opportunity for partners to discuss issues relating to government business processes.
She assured service providers that GIFMIS would create a good platform for them to deal effectively with government institutions.
Mad Adzroe said the payment processes, which had been the bane of suppliers to Metropolitan, Municipal and District Assemblies, would be efficient, swift and without delay.
The development objective of GIFMIS is to assist in improving the effectiveness of service delivery and the allocation of scarce resources.
Madam Adzroe urged the contractors and service providers to support the project.
Government embarked on several public financial management reforms over the years to address challenges in managing public funds.
GIFMIS is part of the reforms replacing the manual processes with electronic system of processing government financial transactions at MMDAs to ensure efficiency, transparency and accountability in public financial management.
Madam Adzroe said GIFMIS had introduced innovations in the business processes with the application of information and communication technology.
She explained that processes and documentations which hitherto were produced manually are now being produced electronically, citing Purchase Order as an example.
'As a matter of policy, the Assemblies would now issue purchase orders which confirms availability of budgetary resources to support the commitment to be made by a particular assembly', she said.
She said the onus was on the prospective works or service providers to ensure that a Purchase Order was duly issued from the GIFMIS system to support contracts, award letters and other documentations.
'it is important to note that the purchase order does not replace any legal documentations needed to be signed between the agency and the service provider, however, it is a critical requirement to support payment requests of a supplier," Madam Adzroe added.
GNA