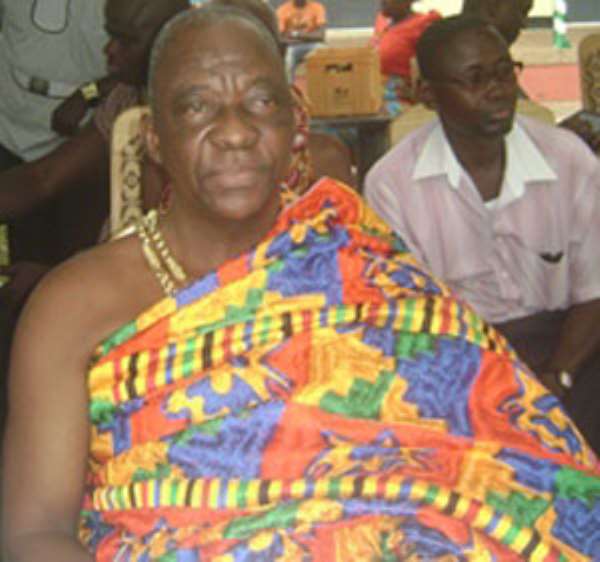 The youth averred that the skirmishes in the area were the creations of the Yejihene who doubles as the President of the Brong Ahafo Regional House of Chiefs.
This was contained in a rejoinder issued by the Kojo Bofour Youth signed by Thomas Nyame, Secretary to Kojo Bofour Stool in reaction to an earlier rejoinder issued by the Yeji Traditional Council which sought to exonerate the Yejihene from any wrongdoing.
The Yejihene's rejoinder attributed the shooting to the police, saying, 'Investigations by the Yeji Traditional Council have also revealed that the so-called Nana 'Dr' Agyare Boffour [Chief of Kojo Bofour] and his entourage were the people who were armed and were firing guns at the time they were near to the durbar grounds only to be prevented from continuing to do so by the firing of warning shots by the police (apparently to restrain them) and this resulted in a pandemonium.'
http://www.dailyguideghana.com/wp-content/uploads/2013/12/Kofi-Fofie.jpg
SHOT DEAD! Kofi Fofie and SHOT DEAD! Kwadwo Jikibu
This assertion by the Yeji Traditional Council had angered the police administration who said the name of the police was unnecessarily being dragged into the mud by the Council for an incident the police knew nothing about it.
In the same manner, the Kojo Bofour Youth had stated, 'It is better for Yejihene to remain silent over the gruesome murder he had orchestrated than attempting to deny knowledge of what went into his barbaric and ill-motivated act.
'We think that as a paramount chief who enjoyed security and goodwill from the people of Kojo Bofour during his enstoolment till date, especially the biological fathers of the murdered, he will talk and tempers and ill-feelings will come down. But his reaction appears self-indicting and exposes him the more.'
They also explained that the Kojo Bofour-Kikranta Gates rotation was a loose one and not rigid like the Yeji paramountcy because Bofour and Kikranta were not of the same grandparents.
'So the youth of Kojo Bofour want Yeji Traditional Council and for that matter Yejihene to know that enough is enough and that we are not prepared to rotate the Kojo Bofour sub-stool with Kikranta Gate who have not kept faith and trust with us no matter what he Yejihene will do under the prevailing situation we all find ourselves.'
 FROM Fred Tettey Alarti-Amoako, Sunyani