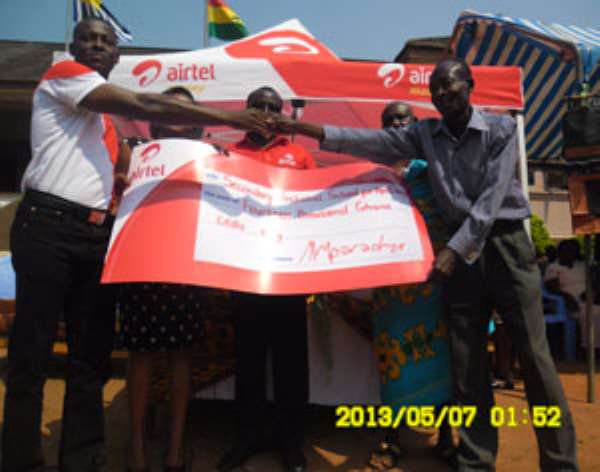 Mr. Gwira presents a cheque to Mr. Pecku.

Airtel Ghana, as part of its Airtel Touching Lives Season 3 programme, extended support to Mampong Senior Technical School for the Deaf in the Eastern Region.
The company presented a generator worth about $9,000.00 and a cheque for GH¢14,000.00 to the school.
The amount is to be used to pay for its rent, which has been in arrears over a long period of time.
The generator was given to the school by Airtel to enable it secure power supply at all times as electricity supply in the area was said to be intermittent.
Airtel also gave the school an additional  GH¢4,800.00 to pay for one extra year of rent for their school block.
The Multimedia Group recently reported about the plight of the school and the persistent threat by the landlord to close the school.
The Head of Corporate Communications, Airtel Ghana, Donald Gwira, in a speech during the presentation said: 'We were touched by this plight and wanted to show commitment to a deserving cause by giving back to the community at large and the children in particular. This had to be done in a significant way, a way that would touch lives and benefit the people of this area for generations to come,' Mr. Gwira added.
The Headmaster of the school, Nathan Pecku, in a speech, noted that the support rendered by Airtel Ghana would help transform the school.
He said the school was bedeviled with numerous challenges.
Mr. Pecku indicated that similar support from other generous individuals and groups in the country to the school would be warmly welcomed.
A teacher of the school, Theodore Akleih, in an interview with BUSINESS GUIDE, said the school lacked a place of convenience, which pose serious problems to the students.
The Mampong Senior Technical School for the Deaf was founded 56 years ago by Rev. Jackson Foster.
  By Melvin Tarlue