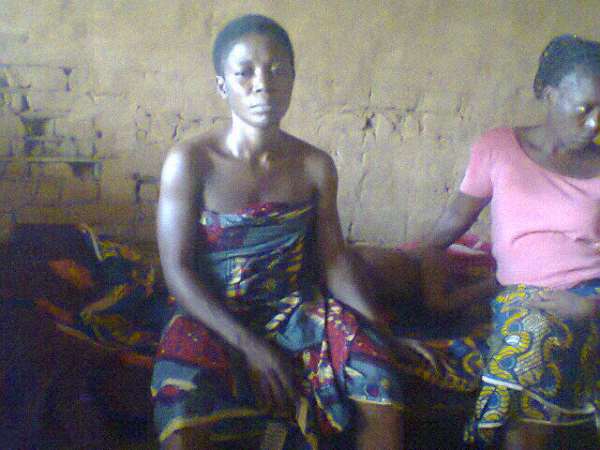 Mrs Sarah Isaiah being consoled by neigbhor hours after the kidnapping
Akwa Ibom State: A community leader in Eket and Village chairman of Ikot Odiong village, Mr. Ita Friday Ita, has called on Akwa Ibom State government and the security operatives to step up action aimed at cracking down the child kidnapping ring that has been terrorizing different communities in state and kidnapping children of about eight years down to five months.

Mr. Ita made the appeal yesterday while addressing newsmen after unidentified gunmen numbering about four invaded the house of one Mr. Solomon Prince Assam adjacent to the Eket Central Market, Ikot Odiong, Eket local Government Area, and abducted a two year old, boy, Master Idara-Obong Sunday Isaiah. The gunmen arrives the compound about 5:00 am, claimed they were a combined team of the National Drug Law Enforcement Agency (NDLEA) and the Nigerian Police, and were there on an order to investigate alleged marijuana sales in the house. But while trying to argue with them that there were no such business in the compound, the gunmen beamed their torchlights in different rooms, temporarily blinding occupants of the house, when they spotted Idara lying on the bed with his mother, Mrs. Sarah Sunday Isaiah. They forcefully took him away with threat to shoot anyone who dared to interfere.
"There must be an urgent action by the government and police to stop these miscreants who are terrorizing the communities and kidnapping little children almost on a daily basis. How can such act continue without any action to stop it? Some powerful men are behind these child kidnapping business. It is a big business. We can no longer keep silent. Where are they taking these children to? None of the childen has returned back alive or dead!'' the angry community leader cried out.
Also speaking, a youth leader from Effoi , in Eket, Mr. Joe Bassey disclosed that more than 15 children have been kidnapped the neighborhood alone the past two months, and that there were similar reports in other parts of Eket, Nsit Ibium, Onna , Esit Eket and Oron of which when added could amount to 50 children . He further stated that, that very night, the gunmen came to his house but were unable to penetrate because of the steal protectors and iron doors of his house. This compelled him to call the police, but the police told him on phone that their vehicles were not in good working condition.
Effort to speak to the inconsolable mother of the kidnapped child, who originally hails from Odoro Nkit in Esit Eket, proved abortive as she continued to weep and roll on the muddy floor with a heart throbbing Nunc Diminttis : "Oh God what crime did I commit? I want my child back! What will I tell the father? Somebody help me bring my child back! I will kill myself, I will kill myself..." Sarah continued to wail.
The Divisional Police officer of Eket, did not pick his calls at time of going to the press. But a senior police officer in the crime department who preferred anonymity said the police were aware of the child kidnapping upsurge and were doing investigation on the issue. He disclosed that a suspect has been arrested by a vigilante group in one of the communities; brought to the Eket the station and was under intense investigation.