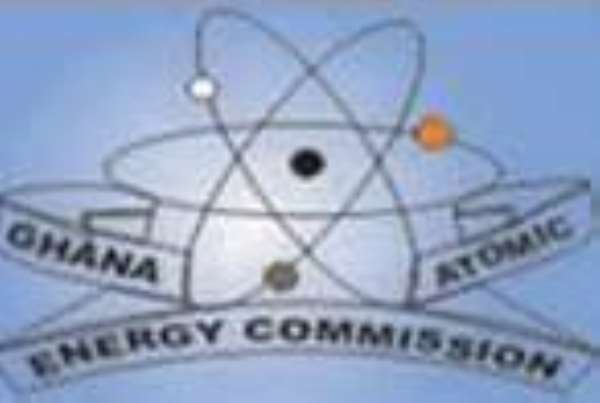 GAEC Logo
Accra, Dec 09, GNA - The Ghana Atomic Energy Commission (GAEC) on Sunday held an interdenominational church service to climax its Golden Jubilee anniversary celebrations.
The service, which was attended by staff of the Commission, their families as well as members of churches who are tenants on GAEC's land at Atomic, was a unifying occasion for the parties to jointly show their appreciation to God for His faithfulness over the years.
The churches included the Pentecost International Worship Centre (PIWC), the Methodist, Presbyterian, Anglican and the Baptist Churches which have been allocated plots of land by the Commission to cater for the social and religious needs of its staff and the catchment area.
The congregation was engaged for hours in intercessory prayers for the Commission's sustenance, expansion and success over the ensuing years.
Rev Kofi Antwi-Boasiako, Resident Pastor of the PIWC, Atomic / Kwabenya, in a sermon, said God appreciated a thankful soul and therefore giving praise to Him was an important gesture for all who had enjoyed His Grace and favour over the years.
He said it was very easy for people to take the Grace of God for granted and feel complacent because they were able to go about their daily activities as usual.
According to him 50 years in the history of an institution was a major landmark that needed to be celebrated but at the same time required sober reflections of events and strategies to improve upon its performances in the years ahead.
It is also a period of reuniting, consecration, praise, merry making as well as debt cancellation.
To him the life history of the Commission has been full of events which were pushed by the hands of military dictators and politicians after its establishment by Ghana's first President, Osagyefo Dr Kwame Nkrumah in 1963.
Rev. Antwi-Boasiako said by the Grace of God, the Commission had survived and prayed that its management and staff would remain committed to God for the numerous achievements for the health and security of the nation over the period.
He appealed to the leadership of the Commission to stay focused and remain confident in the fact that God was going to use the Commission to save Ghana from its energy crisis through a breakthrough in nuclear energy within the next seven years.
Professor Benjamin Jabez Botwe Nyarko, Director-General of the Commission, said from 1966 to 1973 the Commission was closed down just like other state institutions that suffered the same fate.
He thanked all members of staff, partners and all who had contributed in one way or the other to bring the Commission to its present state.
He said the Commission had a number of visions to pursue in the years ahead in the areas of agriculture, health and industry and had also accepted the challenge of pursuing its nuclear energy programme to produce electricity for the country to enhance national development.     
GNA