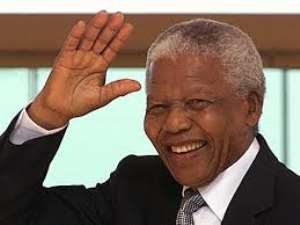 World leaders are expected in South Africa for the 10-day state funeral of Nelson Rolihala Mandela, the father of the nation who died on Thursday, aged 95.   The Madiba, who survived 27 years of tortuous prison conditions to defeat apartheid and became President of a non-racial society, will be buried at his hometown, Qunu, in the Eastern Cape Province on Sunday, December 15.
Announcing the elaborate programme for the official home-coming of the first Black President of the Orange nation, President Jacob Zuma said, Mandela 'was a symbol of reconciliation, unity, love, human rights and justice in our country, and in the world.'
Mandela's body has been moved from his private home in Soweto to a mortuary in Pretoria, the political and administrative headquarters of the Republic, from where it would be sent to Qunu.
In the words of the sitting President, 'our people have lost their father. Although we knew that this day would come, nothing can diminish our sense of profound and enduring loss,' Zuma told a nation celebrating the life of the most iconic figure in contemporary world history.
The world has lost the most recognised face on earth, and world leaders reflected on his importance to the new geo-political order.
In Ghana, President John Dramani Mahama has ordered flags to fly at half mast, after eulogising the greatest man to be born on the continent.  
The Ghanaian Head of State said Mandela taught the continent of Africa to forgive.   According to the Ghanaian Head of State, he first encountered the deceased former President of South Africa in a lift in a hotel in Cape Town, purely by accident.
'That night, as I watched Mandela walk past me, I understood his story – The Long Walk to Freedom – was also Africa's story.   The indignation that once permeated our continent has been replaced by inspiration. The undercurrent of pessimism, resulting from the onslaught of maladies - wars, coups, disease, poverty and oppression - has given way to a steady increasing sense of possibility.'
Whether or not, President Mahama, and many heads abusing their leadership role in Africa, has learned anything from the life and death of Madiba, would form the topic of the next article scheduled for tomorrow.
Ghanaian opposition leader Nana Addo Dankwa Akufo-Addo, obviously drawing inspiration from the story of Nelson Mandela said: 'He showed other African leaders what can be achieved, even in one term of office, if a leader chooses to focus on the bigger picture – the greater good – in doing the right thing that will stand the test of time, and not just to survive an electoral cycle.'    
Last Saturday and Sunday, the English Premiership paid tribute to the man who fought and conquered apartheid and reconciled South Africans, by observing a one-minute silence before kick-off in all matches.
In South Africa, black, white and coloured are all celebrating the life of the man who gave nationals true freedom from discrimination.   US President Barak Obama said Mandela embodied 'the promise of change for the better. We have lost one of the most influential, courageous and profoundly good human beings that any of us will share times with.'
UN Secretary-General Ban Ki-moon described Mandela as 'a giant for justice and down to earth human inspirer.' In Berlin, German Chancellor Angela Merkel said Mandela's political legacy of non-violence and the condemnation of all human forms of racism will continue to inspire.'
From Abuja in the Federal Republic of Nigeria, President Goodluck Jonathan saw him as 'an inspiration to oppressed people throughout the world.'
He was born Nelson Rolihlala Dalibhunga Mandela on 18 th July 1918, and joined the African National Congress in 1944 to fight against racism. Mandela became the dominant black movement's main focal point in the fight against the obnoxious apartheid system that was institutionalised as the official policy of governance in 1948.
Mandela was arrested and incinerated on a number of occasions. During his famous trial in 1964 for sabotage that ended with the freedom fighter given a life sentence, Mr. Mandela was undeterred. He defiantly told his accusers this: 'I have cherished the idea of a democratic free society, in which all persons live in harmony and with equal opportunities. It is an ideal which I hope to live for, and to achieve. But if needs be, it is an ideal for which I am prepared to die.'
He was handed a life sentence, and spent 27 years of his fruitful life behind bars on Robben Island, off Cape Town, cracking stones, during which he had tuberculosis.
In spite of the inhuman treatment meted out to him and fellow prison inmates, including Walter Sissulu, Mr. Mandela was never bitter towards those who promoted the obnoxious system.
For those who do not know much about apartheid, it was a policy promulgated by the then ruling Nationalists Party, based on the idea of a supposed superiority of the white race. Apartheid had three main pillars.
A: The Race Classification Act, which classified citizens of South Africa suspected not to be of European origin, according to race.
B:   The Mixed Marriage Act, prohibited marriages between people of different races and
C: Group Areas Act, which forced people of different races into living in designated areas.
Mandela was first charged under the suppression of Communism Act in 1952 and given a suspended sentence. He was later banned from public meetings and confined to Johannesburg. In 1955, Mandela played a key role in the formulation of the ANC's Freedom Charter.   The Charter states: 'South Africa belongs to all who live in it - Black or White – and that no government can justify class authority unless it is based on the will of the people.'
In 1958, the apartheid regime introduced pass laws restricting the movement of black and coloured people. After the Sharpeville Massacre of 1961, the government introduced a state of emergency. A number of leading ANC activists, including himself, spoke about the need for armed struggle.
'There are many people who feel that it is useless to continue talking peace and non-violence against a government whose reply is only savage attacks on unarmed and defenceless people.'
Far from being silenced as a result of being put behind bars for good, Nelson Mandela became the symbol of the anti-apartheid struggle, until the world decided to fight back, and made it impossible for South Africa to exist as a member of the comity of nations with apartheid laws still in the statutory books.
In 1990, he was released under an agreement that silently put paid to the policy of racial discrimination. Condemning the violence that reared its head in the ANC versus Inkatha Freedom Party disturbances in the run-up to the 1994 elections, which claimed several lives, Nelson Mandela condemned ANC support for violence.
'There are members of the ANC who are killing our people. We must face the truth. Our people are just as involved as other organisations that are committing violence. We cannot climb to freedom on the corpses of innocent people.'
In 1992, he shared the Nobel Peace Prize with the leader of the last apartheid regime in South Africa, F.W. de Clerk.   On May 2, 1994, following the ANC's massive victory at the polls, Mandela was installed as President of South Africa without racism.
One British commentator wrote: 'Nelson Mandela danced and waved to the crowd. He smiled - the reaction of a man who had seen his dream fulfilled.'
Mr. de Clerk said he found Nelson Mandela's lack of bitterness 'astonishing.' It is this attribute that has endeared Nelson Mandela to the entire world. When his corpse is lowered into the family grave at Qunu on December 15, it would signal the end of an era. Mr. Mandela's legacy will live on, in spite of his internment.
In the words of French President Francois Hollande, 'Mr. Mandela's message would continue to inspire freedom fighters for freedom and to give confidence to people in the defence of just causes and universal rights.'
Whether African leaders have learned anything from the Mandela's manual of coexistence and given hope to the people forms the basis of my next espouse tomorrow.