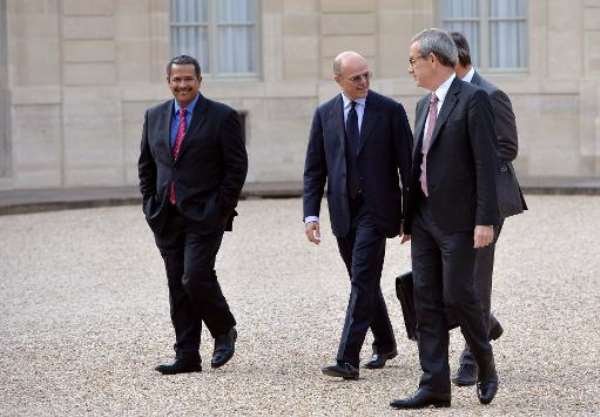 Eskom's Brian Dames (left) arrives at the Elysee Palace in Paris on June 25, 2013 for a dinner. By Miguel Medina (AFP)
Johannesburg (AFP) - South Africa's monopoly electricity provider Eskom announced the resignation of its chief executive on Thursday, the latest blow to the state-backed firm as it battles to prevent widespread power cuts.
Eskom announced that Brian Dames will step down for personal reasons from the end of March 2014.
"This time frame allows for a planned succession process," the firm said in a statement.
Dames has served as group chief executive since 1 July 2010, a difficult time that has seen the company struggle to keep the lights on.
The firm supplies about 95 percent of the country's electricity, but painstaking efforts to increase capacity have been hobbled by underinvestment, missed deadlines, tight budgets and a maintenance backlog.
Dames took over in the wake of enforced blackouts in 2008 that cost the country billions of dollars and contributed to a credit ratings downgrade, a selloff in the rand and an outflow of investment.
"Under his leadership Eskom kept the lights on in spite of a tight system," the firm said.
But troubles remain.
The firm recently asked industrial customers to cut electricity usage by at least ten percent amid an "emergency" caused by the loss of generating units.
Analysts have warned that further power cuts are likely, threatening South Africa's already weak growth.