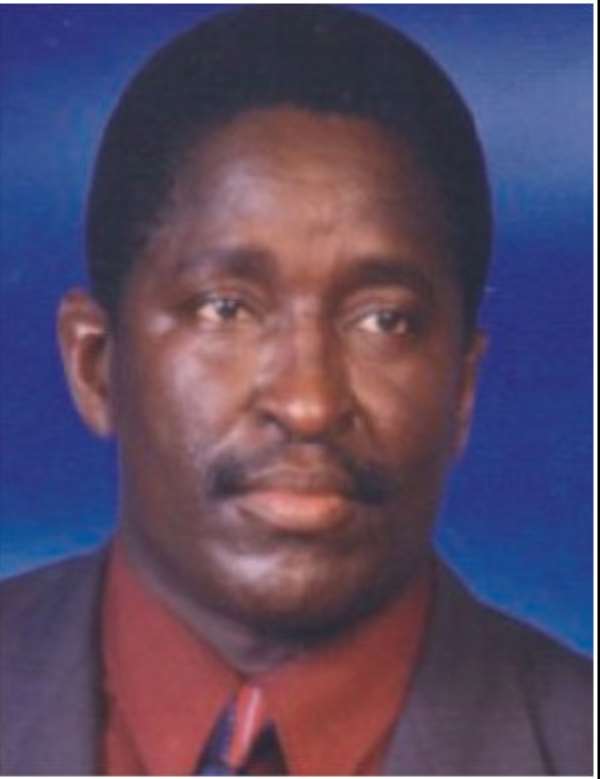 Captain (Retired), Dr Nkrabeah Effah-Dartey, aspiring General Secretary of the New Patriotic Party (NPP), says he is a serious person and a politician who would surprise the entire nation soon.

"My critics who go about saying I am not serious and that I am a singer are rather big jokers,"

"My doors are always open to them who do not know me well to come closer and know who Effah-Dartey really is," he said.
Dr Effah-Dartey was speaking to this reporter in an interview in Koforidua.
"What the hell do they mean by I am not serious. I am a successful lawyer in my own Chambers with over eight lawyers and I have a very beautiful wife who holds Masters Degree and is currently in the United States."
"I have four strong sons; the first is a lecturer in a University in China, the second a graduate from University of Ghana, the third and fourth are both at the Kwame Nkrumah University of Science and Technology pursuing Law and Medicine respectively; where lies the claim that I am not a serious person."
According to Dr Effah-Dartey, if those critics were serious themselves, they would have seen that he is "a serious politician", adding that, such persons should refine their perception about him.
On why he sings his song, "ma twen Awurade anim", he said if that was why people perceived him to be non-serious, "then they have failed."
"I have a covenant with God to sing to glorify Him because of the great things He has done in my life; I do not sing because of politics but I sing to praise my merciful Maker," he stressed.
Dr Effah-Dartey recounted that he had been hand-cuffed and imprisoned five times, including sleeping beside a dead body for 24 hours in the Condemned Cells.
He said on three occasions assassins had gone to his house to kill him but that did not materialize, adding that, "for 60 times I have been involved in serious motor accidents; and so if God has saved me from all these and I sing to praise Him, do you say I am not serious?"
Touching on the upcoming National election of the NPP executives, Dr Effah-Dartey said, he was going to win the General Secretary Slot hands-down.
According to him, statistics had shown that any political party that wins the Brong Ahafo (BA) Region carries the nation "and this is true from Dr Nkrumah's time till date."
He said the NPP desperately needed to recapture BA from the National Democratic Congress (NDC) who had powerful leaders as Mr Asiedu Nketia, General Secretary, Yaw Boateng Gyan, National Organizer, First Lady Laudina Mahama and Cecelia Johnson, Council of State Chairperson hailing from the region.
"BA is not a monopoly of any party but it always goes to the party that has the best strategy and message and I am hopeful that in 2016, with me as General Secretary, the NPP will recapture BA and gather more seats to make our Presidential Candidate President of Ghana," he said.
Dr Effah-Dartey, who was an Army Officer trained at the Royal Military Academy in Sandhurst, United Kingdom, said as a unifier and a diligent politician who does not belong to and does not believe in camps but the NPP, "I am the right person the Party needs this time to help win power in 2016."
He was a two-term Member of Parliament for the Berekum Constituency and Deputy Minister for the Interior and the Local Government and Rural Development in President Agyekum Kufuor Administration.
When asked whether he had abandoned his flagbearer ambition, Dr Effah-Dartey said, "no comment."