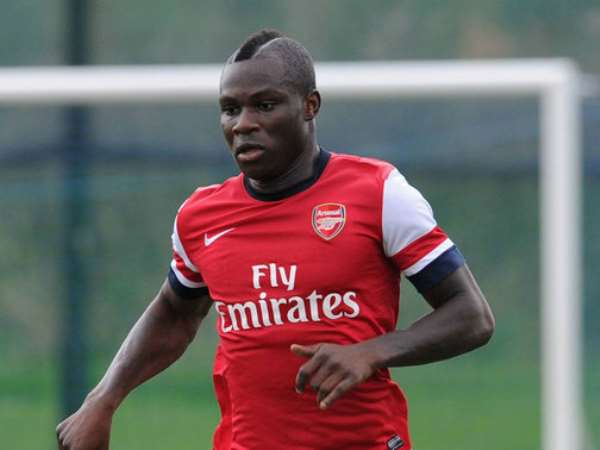 Arsenal's forgotten midfielder Emmanuel Frimpong must leave the club.
After an injury-hit three years, Emmanuel Frimpong must seek a new challenge away from the Emirates.
Three years ago, Arsenal manager Arsene Wenger tipped young midfielder Emmanuel Frimpong for England.
The 18-year-old had just helped the Gunners clinch the 2010 Emirates Cup, starring in a 3-2 victory over Celtic.
He played alongside Jack Wilshere, with both youngsters lauded for their all-action performances.
At the time, it seemed that both Frimpong and Wilshere were destined for the Arsenal first team, and sooner rather than later.
On Frimpong, Wenger went so far as to say: "Here you have a boy who can choose between England and Ghana. I would have no hesitation and invite him to play very, very quickly for England."
Frimpong, of course, went on to choose Ghana.
It was a wise choice, because currently the 21-year-old midfielder is light-years away from a regular spot at Arsenal, never mind a place in Roy Hodgson's England squad.
While Wilshere has blossomed into one of the finest young midfielders in the country over the last three years, becoming a player who surely has a long England career ahead of him, time has stood still for Frimpong.
Injuries have not helped. A couple of months after that Emirates Cup success, Frimpong suffered an anterior cruciate ligament injury and was not to play a game until the following summer.
Having been loaned out to Wolves, the youngster then suffered an almost identical injury in February 2010, this time leaving him sidelined for seven months.
Those agonies have set back Frimpong's career a long way. In the last two years, he has managed just 16 first-team appearances for Arsenal.
Frimpong will be 22 next month, but finds his path to the first team barred by the likes of Mikel Arteta, Mathieu Flamini, Aaron Ramsey and, of course, Wilshere. He will be painfully aware that Arsenal are well-stocked for central midfielders.
It is hard to see what Frimpong would gain for another loan spell; the developmental stage of his career is over, and a failure to find regular football in the next 12 months would be to risk the progress of his professional career.
Instead, it seems Frimpong must now seek a move away from the Emirates. A powerful, muscular and intelligent player, he has the attributes to play in the Premier League, but must do so at a club where he is guaranteed to play regularly.
He demonstrated during his spells at Wolves and Charlton that he remains a player of enormous potential, but potential is not enough from a player who made his first team debut for Arsenal more than two years ago.
If that potential is to be realised, it must be realised away from north London.
By: Sue Denim, www.hereisthecity.com