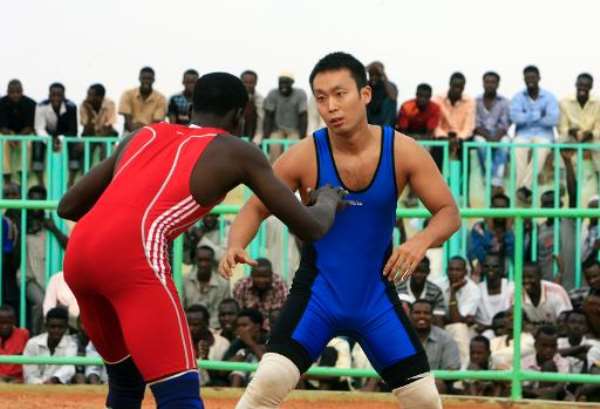 Khartoum (AFP) - A wrestling diplomat from Japan challenges a Sudanese Nuba opponent for the sixth and final time on Friday, and this time he is hoping for his first win.
But even if he loses yet again, Yasuhiro Murotatsu says he will still have secured a victory of sorts, helping to unify a divided and war-torn land.
The Nuba Mountains of South Kordofan state are home to a linguistically and religiously diverse group of people collectively known as "Nuba".
Their form of wrestling, which they have practised for thousands of years, is completely different from the iconic national sport of sumo in Murotatsu's homeland.
Wrestling is central to the Nuba farm-based society and remains so, despite a more modern form of combat that has devastated the region for more than two years.
Non-Arab rebels from South Kordofan have joined with other insurgents from Darfur, in Sudan's west, in rising against the Arab-dominated Khartoum government which they complain has marginalised the regions.
Japan's embassy says Murotatsu was the first foreigner ever to set foot onto the sandy Sudanese wrestling pitch to take on the country's toughest.
In a pre-match interview Murotatsu, 33, told AFP he sees his participation as part of an effort to help bring the multi-ethnic and multi-religious Muslim-majority country together through sport.
"This is my strongest message I want to send to make Sudanese people more unified, because now Sudan is at a very sensitive stage," he said.
Murotatsu, known as "Muro" to local wrestling fans, says the Sudanese sport is similar to more widely known freestyle wrestling in which he competed in junior high school.
Since February he has wrestled in special "friendship" matches during the regular Friday evening card in Haj Yousef, a poor Khartoum neighbourhood of mud-brick houses.
Asked if he thought he might finally secure a victory before leaving Sudan next week at the end of his posting, Murotatsu thought for a while before replying: "I'm confident."