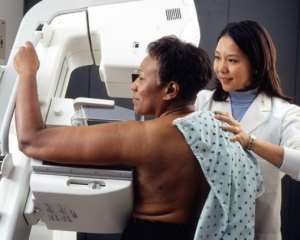 About 400 women at Ayanfuri and surrounding communities in the Upper Denkyira West District in the Central Region have undergone a day's screening for breast cancer.
Organised by Perseus Mining Ghana Limited, the exercise, which was in line with the national mine safety week celebration, was part of efforts by the company to fight breast cancer, which continues to afflict many women in the country.
Breast cancer is the leading cause of cancer deaths in Ghana, especially among women, and in spite of the efforts by government and other organisations to check it, the disease continues to take its toll on women.
Inadequate medical attention, superstition, late reporting of the symptoms to hospitals and related matters have combined to militate against efforts at arresting the situation.
The screening exercise at Ayanfuri was undertaken by health personnel at the Ayanfuri Pentecost Clinic.
Women who showed symptoms of the disease were referred to major hospitals for further attention.
Addressing the women before the exercise, the Social Development Manager of Perseus Mining, Madam Florence Ansere-Bioh, said the company was concerned about the disease and believed that it was within its social responsibility commitment to support its partner communities in dealing with the menace.
"Perseus, as a community neighbour, believes that what affects the community affects the company as well," she said.
Madam Ansere-Bioh said the company set aside GH¢750,000 annually as development fund to support development projects and programmes in the mining communities.
A medical assistant at the Ayanfuri Pentecost Clinic, Ms Gifty Antwi, described breast cancer as a deadly disease that should not be taken for granted.
She advised women to make the periodic examination of their breasts a priority medical issue to ensure that symptoms would be detected early for the necessary attention.