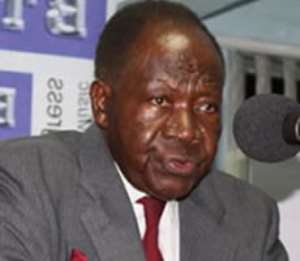 Retired Diplomat, KB Asante, has called for the heads of the Directors of Merchant Bank, whose actions or inactions have led to the seeming collapse of the bank.
He said a bank, which held a lot of promise and was hitherto the beacon of Ghana's economic development should not be allowed to collapse, while directors walk without blame.
Instead of accusing political heads, KB insists the Directors of the bank must be held directly responsible for the sorry state of the Bank.
He was speaking on Asempa FM's Ekosii sen programme, on the controversial sale of Merchant Bank to Fortiz Equity Limited.
Fortiz is seeking to buy 90 per cent of the Merchant Bank shares at a cost of 90 million cedis, a cost described as pittance by critics.
The Centre for Freedom and Accuracy is in court challenging the sale of the Bank. The Centre is arguing that South African bank, First Rand made a better offer of 90 million dollars [180 million cedis] for 75 per cent shares and should have been considered.
The Andrew Awuni led Centre of Freedom and Accuracy has therefore gone to court to challenge the sale of the Bank.
The retired diplomat was in court, Thursday, to witness the opening arguments for the injunction application brought against the sale of Merchant Bank but the case was adjourned to December 5 to allow the biggest shareholder in the Bank, SSNIT to be served with the application and respond accordingly.
Even before the court will commence hearing of the injunction application, the diplomat is convinced Ghanaians have a bigger responsibility to protect the interest of the national asset.
Without attempting to takes sides of those for or against the sale of the bank, the former minister of state in the Nkrumah government says it is time for the facts to be laid bare on the sale.
He said Ghanaians must not wait until the Bank is completely sold before they hold politicians accountable.
He therefore argued that if it is the assertion that the sale is not done properly, and Ghanaians are being short-changed, then everybody must be involved to get to the bottom of the matter.
He said Merchant Bank is a national asset and if it must be sold, there must be a good reason for it, adding that  the media should lead the sunlight campaign to bring the true facts of the case out into the public domain.