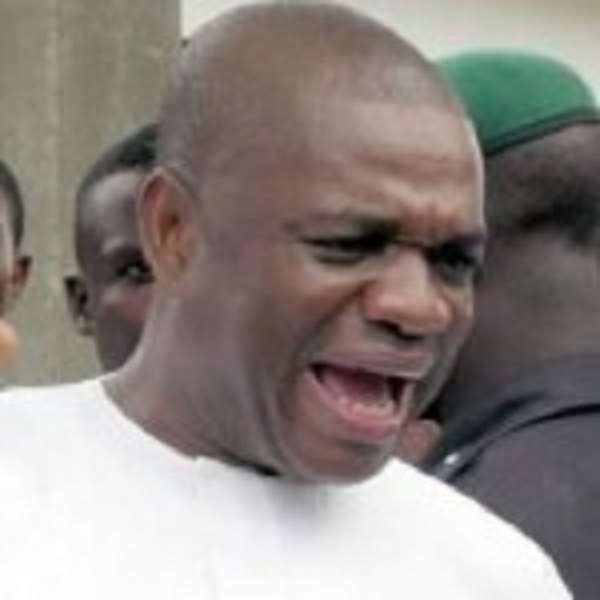 Reconciliation of differences is one thing that Dr. Orji Uzor Kalu, who was a former governor of Abia State, is known for. Without mentioning names, he has reconciled the low and mighty in and outside the shores of Nigeria. Exactly one year, this dude offered in November 2012, to settle the Federal Government, FG, and the spinelessness Boko Haram, when many who were mentioned in the mediation-list turned down the offer, for frivolous excuses. But Kalu said no, he must emancipate all in the society, so that nobody or group would be thinking unitarily, because he believes in the realization of universality.
With the crisis in the Peoples Democratic Party, PDP, and the defection of five governors from the fold to the All Progressive Congress, APC, reminds one of an Igbo adage: When a hero is killed in his village war, he shall come to be remembered when outsiders invade the village. The defection of the five governors makes one to remember the admonishment by Dr. Kalu, urging the leading leaders of PDP to resolve the crisis. He saw the former VP Atiku Abubakar and Dr. Bamanga Tukur as seasoned politicians, who had what it takes to resolve the political differences, before things fell apart.
While Kalu's advise was widely respected and published in many media platforms, yet, the politicians and PDP he advised did not toe the line of Nelson Mandela, whom Desmond Tutu was credited to as saying: Before Nelson Mandela was arrested in 1962, he was an angry, relatively young man. He founded the ANC's military wing. When he was released, he surprised everyone because he was talking about reconciliation and forgiveness and not about revenge.
Let's not say that Kalu has semblance of Mandela, but they share things in common which are, reconciliation and forgiveness and not about revenge. Kalu believes in the philosophy of Roy Barnes: We are all one – or at least we should be – and it is our job, our duty, and our great challenge to fight the voices of division and seek the salve of reconciliation.
But this is not the mindset of an unrefined Nigerian politician, who sees Reconciliation as something that does not require changes of heart and spirit, but expulsion of members from political parties, backbiting, brickbats, tinkering, bickering, sorcery and what negative agenda have they.
This is why the country has not recorded meaningfully, socially and economically, as in change. Kalu would say that for the country to move on, there should be symbolic practical action to achieve greater goals and not about animosities and immensely passion for hatred, which have characterised the way things are done in this clime.
There is a matrix, which Kalu always reminds people. It is the statement that a house divided against itself will, obviously, not stand. Appealing to the leaders of the PDP, Kalu had wept that it's not in the interest – both as founders and joiners of the PDP – to bring down the house they laboured very hard to build. But, what has come over the PDP today? The centre can no longer hold and it is no longer at ease. However, Stefan Zweig had made us to understand that in history, the moments during which reason and reconciliation prevail are short and fleeting.
What has befall the PDP reminds one of the comment by Barbara Boxer, which suggests: Since 1980, we've used reconciliation 22 times, and out of those times, Republicans used it 16 times. So, earth to my Republican friends, you can have your option but you cannot change these facts. They're in the Congressional Record.
Notwithstanding, Kalu should not stop in his effort to reconciling aggrieved persons or groups. We know him as a man who would always forgive those who wronged him even before the persons would come to plead for forgiveness or leniency. He should make the powers that are to see that the overall relations between the political parties in the country should develop in favour of the country and not for persons, because of national reconciliation, unity and reunification.
Dr. Kalu has told the world that reconciliation without justice is however mumbo-jumbo. This is why many crises and developments in the country have lingered. An example is the injustice allegedly done to the subsidy fund. Ihe ojuo in Igbo means, bad thing in English.
So, President Goodluck Jonathan made us to SUFFER subsidy removal only for the money (N634 billion Kerosene subsidy) to be fingered is missing. Anyway, are the banks also missing? Ihe ojuo, ajoka! Dr. Orji Uzor Kalu has told the country that the reformation the citizens should be praying for is not the reformation at any cost, but reformation based on principle and on justice.
Odimegwu Onwumere, a Poet/Writer,
writes from Rivers State.
Tel: +2348057778358
Email: [email protected]
www.odimegwuonwumere.wordpress.com