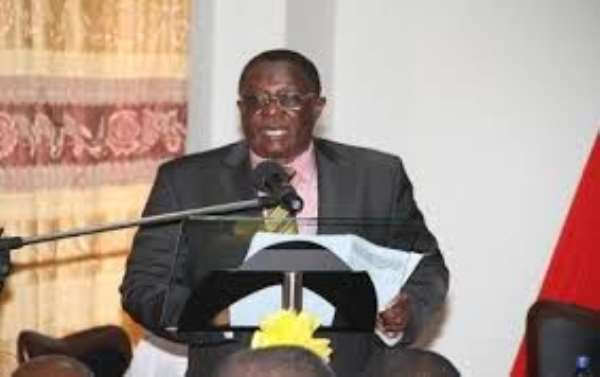 The Minister for Employment and Labour Relations, Hon. Nii Armah Ashitey has appealed to mining companies in the country to fulfill their corporate social responsibilities, regardless of the challenges facing the industry.
 
The Minister, who was speaking at the 3 rd National Conference on Human Resources (HR) in the mining industry, held at New Abirem in the Birim North district of the Eastern, said the contributions of the mining companies to their operational areas would help control urban migration.
 
The conference, which was sponsored by Newmont Ghana, was under the theme: 'HR as a strategic business partner in the mining industry – opportunities in a falling commodity prices and increasing cost environment'.
 
The minister for Employment and Labour Relations further called on the Ghana Chamber of Mines to allocate part of its profit to train more young people in the demand driven and marketable employable skills so that they can be gainfully employed.
 
This, he argued, would create a win-win situation and provide more skilled labour for the industry and further help to stem the tide of social vices such as galamsey, which is destructive to the environment.
 
Touching on the theme, Hon. Nii Armah Ashitey recounted that the theme affirms the desire of the mining industry to support the efforts of government and stakeholders in one of the topmost priorities of the current government, which is to develop the nation's human resources.
 
On his part, the Vice President, Human Resources for Newmont Africa Region, Mr. Dave Kern, disclosed his outfit's pleasure to sponsor this year's event and welcomed the participants to the brand new Akyem mine, which began production a month ago.
According to him, Akyem is a key asset in the Newmont Global Portfolio with an estimated production target of 350,000-400,000 ounces a year and a workforce of about 1300, adding that 'together with the our Ahafo mine, Newmont Ghana is positioned to produce about a million ounces of gold annually in the coming years'.
 
Despite acknowledging that changes come quickly at times in the mining industry and HR departments must keep pace with the changing business needs, the change with the span of 18 months have forced them to change focus from supplying sufficient talent to support expanding production and growth projects.
 
In his keynote address, the Minister of Lands and Natural Resources Alhaji Inusah Fuseini sympathized with mining companies in the country following the falling commodity prices and increasing production cost.
 
'It is undeniable fact that mining companies are feeling the pinch of the falling commodity price and also the increasing cost of environment that comes with it is also giving a lot of headache to investors', he stressed.
 
He, therefore, called on players in the industry to fashion out collaborative ways and initiate partnership because that is the only way the industry could brace its challenges and tap into the opportunities wait for investors.