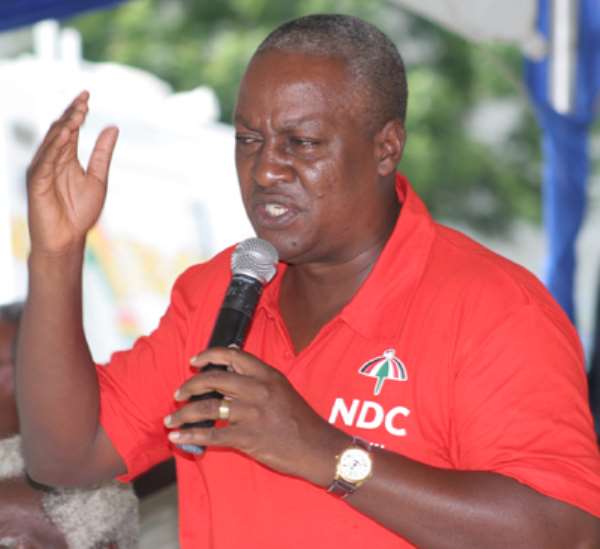 National Democratic Party's (NDP) outspoken communicator, Ernest Owusu Bempah has launched a caustic attack on President John Dramani Mahama for admonishing his critics to stop ranting on radio about the administration of the State and help fix the economy.

President John Mahama, during a congregational service at the 120th Celebration of the Catholic Archdiocese of Accra, implored his critics to assist him to fix the economic crisis that has since bedeviled the nation. According to him, the country should collectively join hands to ensure that Ghana becomes a better country to live in.
"...it doesn't pay to vent our frustration on radio talk show programmes...if we must to build a better and prosperous nation, all of us need to come together and act in concert," President Mahama stated.
Despite the President's admonition, Owusu Bempah believes he (President Mahama) lacks "communication intelligence" and is inept in leadership.
In Owusu Bempah's view, democratic governance entails accommodating criticisms and so, an analytical study of President Mahama's comments regarding his critics shows he is only acting as a "reckless Chief in Miami."
He held strongly that President Mahama wants to gag his critics so that he can go ahead to rule the country in a "useless manner."
Speaking to peacefmonline.com, Owusu Bempah opined that President Mahama steals in peace and just gets away with it. He has already sent a signal to every Ghanaian that he has lost the plot…He doesn't want to govern this country again…like a reckless Chief in Miami, vents his spleen… his frustration on the ordinary Ghanaian who cares about the destiny of this country."
"He lacks the communication intelligence…or he's frustrated as a leader" and is petrified because he has failed to revamp the progress of the economy.
He further stated emphatically that "he (President Mahama's) government has borrowed so much money than any other government in this country".
"He doesn't know how to handle the situation. So, he's scared that people are talking about it and it's getting out of hand, and he wants people to keep quiet so that he can steal and go in peace in 2016…He's rather the person who's been talking too much," Owusu Bempah concluded.