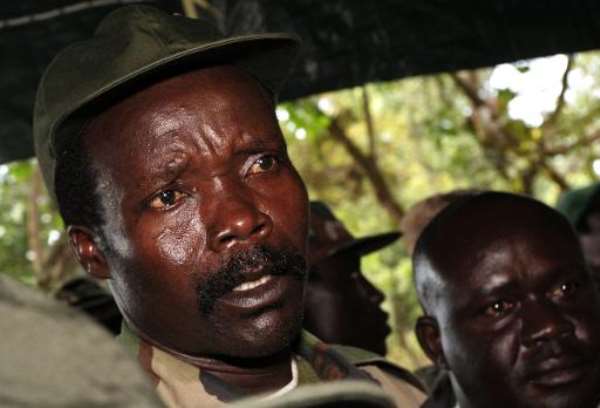 The leader of the Lord's Resistance Army (LRA) Joseph Kony, answering journalists' questions in Ri-Kwamba, southern Sudan on November 12, 2006. By Stuart Price (AFP/File)
New York (AFP) - The president of Central African Republic has told the United Nations he has negotiated with Joseph Kony, even as an African force hunts the war crimes suspect, a UN envoy told AFP.
Abou Moussa, a UN special envoy, said in an interview that Kony may be sick and that Central African Republic president Michel Djotodia had told him this month he has sent food to Kony.
"When we met President Djotodia he told us that he is in contact with him (Kony)," said Moussa, UN envoy for the Central African region where Kony's Lord's Resistance Army is accused of killing 100,000 people in a two-decade reign of terror.
"He told us that he had provided him with 20 bags of food, with manioc, kasava.
"He added that Kony had called him, that Kony has asked for these items." Kony was also reported to have asked for the creation of a safe zone for him and his fighters in Central African Republic.
Moussa said it was not know for sure where Kony was but that Djotodia believed the LRA chief was in Central African Republic, which is confronted by its own chaos after a rebel takeover in March.
Moussa said he had warned the transitional president against providing food to Kony unless it was part of a deal under which the warlord would surrender.
"We told him be careful," Moussa said of the meeting with Djotodia.
"By sending him food, are we not giving him enough energy to continue to do havoc? If he wants to surrender, he wants food, they should come out of the bush," the envoy said.
Moussa quoted Djotodia as saying that once Kony has been tempted "out of the bush" he would be handed over to the United Nations. "So we are waiting."
Kony, who launched a rebellion in his native Uganda two decades ago, is wanted by the International Criminal Court for war crimes and crimes against humanity including murder, enslavement, sexual slavery and recruiting child soldiers.
A 3,000-strong Ugandan-led African force is hunting Kony in Central African Republic, Uganda, South Sudan and other countries.
They are backed by about 100 military advisors from the United States, which has offered a $5 million reward for Kony's capture.
The United Nations estimates that 400,000 people are displaced in countries in the region because of Kony's attacks.
Recent attacks by LRA bands have been reported in South Sudan and Central African Republic. Moussa said defections have increased while the number of attacks is down, but that Kony is still widely "feared".
The LRA is now estimated to number less than 500 fighters, split up into small groups around Central African countries. Though he has suffered defections, Moussa says Kony forces villagers to reinforce his armed bands.
Moussa said the Central African Republic authorities had expected a mass surrender by LRA fighters on November 3, but it did not happen.
"But it shows the pressure. They want to surrender but they feel it is not yet the time. That is why the pressure must continue on Kony," Moussa said.
He added that on a recent trip to Kampala, a well informed official there had told him that Kony was believed to be sick.
"What they are looking for is food and medicine," said Moussa, who told how the African troops regularly find traces of where Kony and other LRA fighters have been.
"Of course you cannot be living in the jungle like that for years and years and continue to be in good health," said Moussa who added that the official was "convinced" that Kony is ailing.
At a UN Security Council meeting on the LRA, US deputy ambassador Jeffrey DeLaurentis said the brigands remain "a constant source of terror and suffering."
"Important gains have been made, but experience warns us that we should take nothing for granted," he added.
"It is essential therefore that we remain united in our determination to crush the LRA, which has proven its willingness to wait the international community out and to exploit to its advantage every opportunity to regroup," said the US envoy.