2014 budget is simply uninspiring - Minority Leader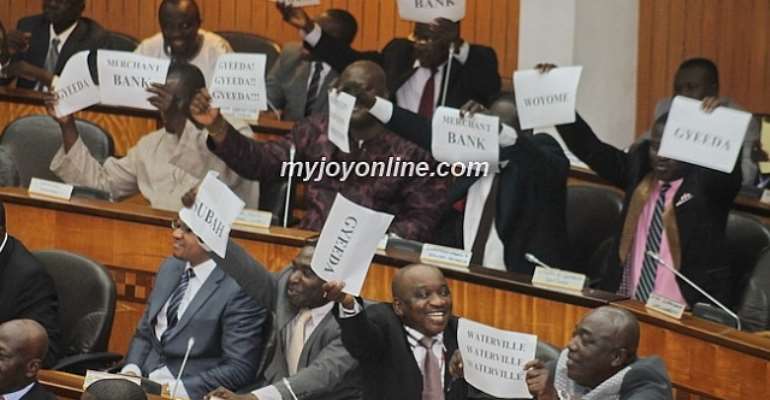 Minority Leader, Osei Kyei Mensah-Bonsu, has lashed out at the Finance Minister for presenting to Parliament, in his observation, a rehash of previous budgets.
In seconding the motion to adjourn Tuesday's sitting to November 20, Mr. Osei Kyei Mensah-Bonsu described the content of the 2014 budget as "uninspiring" after about three hours presentation by the Finance Minister, Seth Terkper.
Highlights of the 2014 budget include: a removal of import tax on condoms and agricultural inputs such as outboard motors, chemicals; ten percent pay cut of executive appointees, tax waiver on raw materials for local publishers; the establishment of Ghana Infrastructure Funds to tackle housing deficit, and SMEs Funds. It also captured measures to remove schools under trees, construction of roads, and improved power supply.
However, according to Mr Kyei Mensah-Bonsu, the "alacrity" with which the Majority Leader, Dr Benjamin Kunbuor moved the motion without touching on any specifics, was an indication of a dreary presentation.
As a characteristic of parliamentary proceedings, Members of Parliament were expected to debate details of the budget, but the Minority Leader predicted that in the coming days there would be "nothing to debate" about the 2014 budget.
Later in an interview with state owned broadcaster, Ghana Television (GTV), Kyei Mensah-Bonsu said the content was full of "same old story", citing issues of lantern, toilet, and school uniforms.
He charged the government to be realistic with Ghanaians and tell them the true state of the nation.
On his part, former Minister of Health and MP for Nhyieso, Dr. Richard Anane said the 10% pay cut from the salaries of the executives and ministers was a Public Relations gimmick and suggesting that it would have insignificant impact on the national purse.
He rather advised Government to stop allowances such as fuel, electricity and water bills among others that government officials enjoy.