ProCredit-Joy FM holds business forum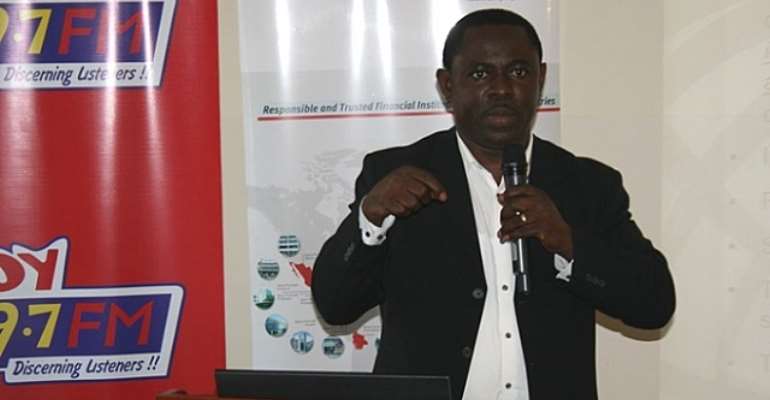 ProCredit Savings and Loan Company in collaboration with Joy FM on Thursday engaged owners of Small and Medium Enterprises (SME) at a business forum to discuss issues that affect their operations.
The annual event, which was on the topic: "How SMEs can cope with Taxation and Rising Energy Tariffs", creates a platform to assist SMEs in finding solutions to pertinent problems that invariably affect the management of their businesses.
Ms Sarah Tsien Zetterli, Managing Director of ProCredit Savings and Loan Company in an address said, it was hoped that through these forum, SME business owners would be provided with new knowledge about areas where they could improve, in order to enhance their profit margins and grow at a faster rate.
"We at ProCredit see this forum as a Corporate Social Responsibility activity; by offering it for free, and to both clients of ProCredit as well as non-clients we hope to make it an accessible platform in a world that too often merely pays lip service to the small business owner", she said.
She indicated that the topic for the occasion was selected based on the fact that the Association of Ghana Industries Business Barometer Survey had earlier this year listed taxation and rising energy tariffs as the two of the top three challenges being faced by Ghanaian businesses.
According to her the situation seems to have heated up even further with the calls for organised labour strikes in response to the recent energy tariffs.
Mr Isaac Nyame, Managing Consultant and Partner with IKERN &Associates, a professional services firm specialising in the provision of Tax Compliance, Consulting and Management among others, addressing the topic, said it was critical for owners of SMEs to have ample knowledge of the tax environment to avoid unnecessary taxation rather than evading taxes.
He, therefore, took the participants through the rudiments of the taxation policy in Ghana, explaining the things required by SMEs in the law to enable them to understand the tax environment.
He also explained how taxation of individual employees  as well as that of companies work and urged both current and prospective owners of SMEs to always consult tax advisors right from the inception of their business, in order to understand the effects of the taxation law on their businesses.
Mr Nyame explained that the increases in taxation as a result of the government's policies to widen the tax net to improve upon its revenue, was as a result of the reduction in donor support to the country's annual budget over the past few years.
According to him since Ghana attained a middle income status in 2010, donor partners like the Netherlands, which used to provide heavy financial support to the country's annual budget had pulled out their resources and rather diverted them directly into other areas of developments in the country.
This had affected government budget funding of projects and created a huge gap, which were being closed either by external or internal borrowing or by rising internal taxation.
Mr Nyame stated that these interventions had their own challenges, as the latter comes with huge costs in terms of interest, while SMEs had to compete with government internally, leading to high inflation and high cost of borrowing among others.
He said it has, therefore, become necessary that SMEs fulfilled their tax obligations in order to avoid embarrassments that come with evasions; however they could also avoid unnecessary taxation when they filed their tax returns regularly and maintain proper accounting and record keeping.       
Mr Solomon Sarpong, Senior Technical Officer, in Charge of Technical Regulation at the Energy Commission, urged both individuals and the business community to adopt consumer energy management and conservation measures, by using energy efficient appliances, to reduce wastage and maximise productivity and profitability.
He indicated that while consumers could do their own energy audits by assessing their consumption levels for proper management, they must also demand for quality service ffrom the energy supplier as a benchmark for tariff increases, in conformity with the Legislative Instrument (LI 1816 and 1935), in order to maintain their businesses.