Ghana Going All Out For The Kill Against Egypt In Return World Cup Playoff – Akwasi Appiah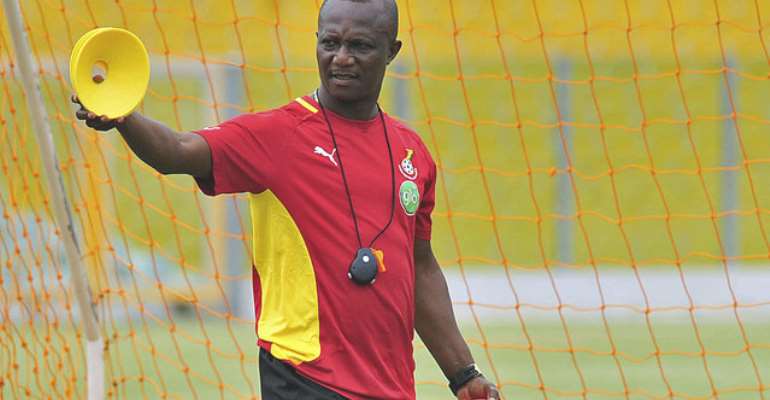 By Ameenu Shardow, follow on Twitter @alooameenu
Ghana coach Akwasi Appiah insists he will be setting out his team to secure another famous win over Egypt in the second-leg of the World Cup playoff despite boasting a healthy cushioning.
The Black Stars go into the game on Tuesday with a massive 6-1 advantage.
Ghana must now at least avoid a 5-0 defeat against Egypt in Cairo to seal its place as one of the five African sides going to next year's event in Brazil.
This seemingly easier task, coupled with the expectation of an attacking surge from the Pharaohs has seen many predict a defensive tactic being adopted by the Black Stars on Tuesday.
But coach Appiah says his team will not be going into the game with a defensive mindset but rather with the thought of scoring more goals to redeem an imaginary deficit.
"I said in Ghana that we've played the first half of the competition and we are now going to play the second half," he said.
"I have made the players aware that we should get on that Egyptian pitch with the mind that we are even down by a goal or two and we are going to redeem those two goals.
"For that reason, we are going out there to play all out and try and win."
Ghana will become the final team to qualify from the African region once the required result is secured on Tuesday.
The Black Stars are chasing a third successive appearance at the Worlod Cup following progressive stints in 2006 and 2010 in Germany and South Africa respectively.