The Kwakwaduam Association Of NY Gets Lecture On Real Estate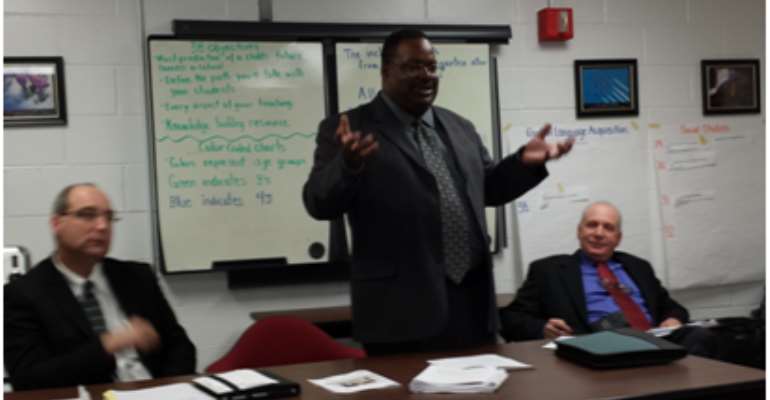 A Team of Real Estate Brokers and a Mortgage Investment Broker have given a Lecture to Kwakwaduam Association Inc. The team comprised Nir Degani, a Licensed Real Estate Broker, Mark Robinson a Senior Bank Loan Officer and Gil Zitzer also a Licensed Real Estate Broker
The lecture was organized in part to inform Kwakwaduam members on the processes involved in buying a home and acquiring a mortgage to cover the purchases. The President of the Organization Mr. Mark Saforo said that all too often Ghanaians in the Diaspora have rushed to build houses in Ghana that become economic dinosaurs. He said it was about time members thought seriously of acquiring real estate in the US to boost the quality of their lives and their economic outlook.
The Team explained the advantages of buying a home – including stability of the family and good schools, tax deduction of the interest payment on the mortgage, appreciation and equity build up and the advantages of retiring into a home already or almost paid for. They contrasted that with the pitfalls of perpetually renting a home. They suggested that members could form partnerships to buy homes provided they would live in them together.
The need to maintain a GOOD CREDIT SCORE was noted to be critical in the ability to acquire a mortgage at lower rates. It was suggested that getting prequalified for a mortgage was one of the key essential element in the initial steps in the process of buying a home even before looking for the home itself. They suggested that members should check their credit scores periodically and initiate means at repairing them immediately if they were low. They suggested a credit score of about 620 as a decent basic minimum
Dr Kwame Aniapam Boafo, a Consultant to Kwakwaduam gave a comparative financial overview contrasting acquisition of a home in the US as opposed to building in Ghana. He suggested that for the same investment capital one was far better off acquiring real estate in the US. He suggested that members should spend their economic lives much more effectively and take the advantages that the US market offered. He said we should not use emotions in such huge investments but to do due diligence.