Mahama: I will deal firmly with report of Judgment Debt Commissioner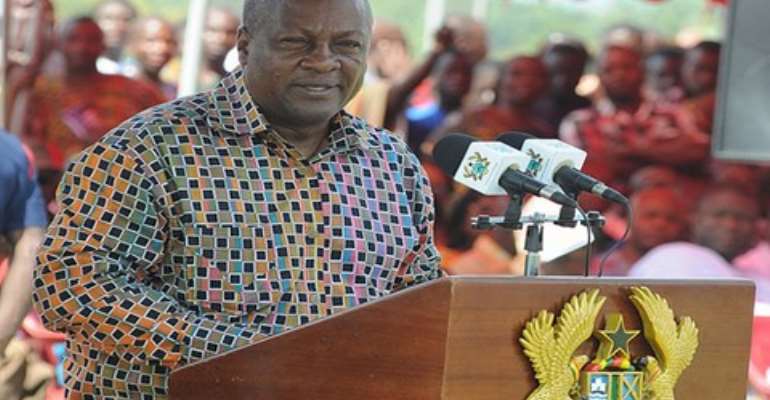 President John Mahama has indicated his resolve to "deal firmly" with the report of the Sole Commissioner on Judgment Debts, when it is presented to him.
Addressing anti corruption groups at the Flagstaff House Friday, Mr. Mahama said: "It is not only my duty as President to fight corruption but it is also my civic duty as a Ghanaian to champion this fight".
"I will deal firmly with the report of the sole Commissioner on Judgment Debts when he presents his report to me," he told the groups.
The Commission which is chaired by Appeals Court Judge, Justice Yaw Apau has, as its terms of reference, to ascertain the causes of any inordinate payments made from public funds in respect of judgement debts since the 1992 Constitution came into force. It is still hearing testimonies from witnesses to help unravel such payments.
It has also been tasked  to ascertain the causes of any financial losses arising from arbitration awards and negotiated settlements since 1992. The Commission will make recommendations to help ensure that government does not incur undue financial losses when it does business with private persons or institutions.
Speaking to the anti- corruption campaigners, the president further assured that government was doing its best to strengthen institutions to check corruption among public officials. 
He called on the public not to sympathize with persons caught to have engaged in corruption. Among the directives given include banning of government officials from purchasing government bungalows as well as government vehicles.
"The pillars of good governance, rooted in the rule of law, are being erected to check corruption...We must think outside the box because the old ways will not meet the expectations of our people," the president said.
Joy News correspondent Seth Kwame Boateng reported from the Presidency that, the meeting with representatives of the anti corruption bodies formed part of president John Mahama's routine meetings with civil society organizations.