Tsatsu Tsikata, Kan Dapaah, K.T Hammond summoned over GNPC drillship sale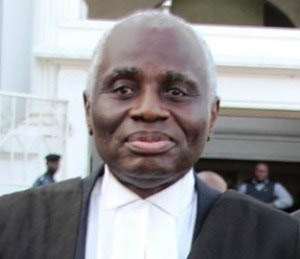 Tsatsu Tsikata
The Judgment Debt Commission has summoned three former government officials to explain their roles in the sale of a drillship belonging to the Ghana National Petroleum Corporation
The Commission wants former Chief Executive of the GNPC, Tsatsu Tsikata, former Energy Minister Albert Kan Dapaah and his Deputy, K.T. Hammond to appear before it and explain circumstances under which the drillship was sold in 2001.
It is investigating how an amount of 24 million dollars raised from from the sale of the Ghana National Petroleum Corporation drillship was disbursed.
Messrs Kan Dapaah and K. T. Hammond are to appear before the Commission on Monday 25, November, 2013.
They will be required to explain the roles they played in the sale of the drillship in 2001.
Former Chief Executive Officer of the Ghana National Petroleum Corporation, Mr. Tsatsu Tsikata, is expected to appear before the Commission on Tuesday 26 November, 2013.
GNPC allegedly run into debt after money it borrowed from Societe Generale, which it applied for hedging purposes could not be paid.
The state-owned oil company and regulator incurred a debt of over $40 million.
Documents in the public domain suggest that Mr. Tsikata and the GNPC had used the ship as guarantee for the loans and when the GNPC could not pay the loans, the bank caused the ship to be impounded.
Societe Generale subsequently secured a court judgment in a London Court compelling the government at the time to sell the Discoverer511 to the settle the debt.
But there have allegations and doubts over whether proper procedures were followed in disposing off the ship.
The Judgment Debt Commission, chaired by a Court of Appeal Judge, Justice Yaw Appau, is digging into the issue as part of a wider probe into judgement debts.
Public Relations Officer of the Commission, George William Dove told Joy News the three have been summoned to assist the Commission's investigations as witnesses.
'They are coming to give us testimony. We are inviting them to come and assist the Commission in the course of the work that we are doing…I think we all agree on the 25th and 26th they will all come here and give their testimony.'
Source: Myjoyonline