WOMEN LAWYERS FIGHT MAHAMA …. Demand Explanation Why Vicky Hammah Was Sacked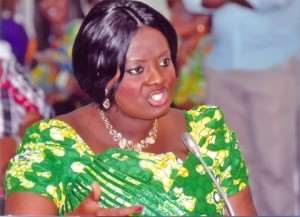 Women in Law and Development (WiLDAF Ghana) has expressed concern over the decision by President Mahama to summarily dismiss the embattled former Deputy Minister of Communications, Victoria Hammah, as a result of a leaked audio recording purported to contain her voice.
The women lawyers are also disappointed with bias discussions and comments by the general public, which seek to denigrate women, especially, women in political and public leadership.
Frank Wilson Bodza, Programme Manager in charge of Governance at WiLDAF, in a statement and a follow up interview with The Chronicle , said the women lawyers were not happy with the decision by President Mahama to sack the Deputy Minister, and his failure to let the public know the rationale behind the harsh decision.
WiLDAF also wondered whether Victoria Hammah was given a fair hearing by the President before she was fired.
Wilson Bodza told The Chronicle that President Mahama recently called on women's rights and civil society groups to come to the defence of women in leadership, who may come under attack, 'but we have no records or reports on whether Ms. Victoria Hammah was defended by the President, or [he] gave her any platform to defend herself, unless his words are different from his actions.'
Below is the full press statement released yesterday:
'Women in Law and Development in Africa (WiLDAF Ghana) is concerned about the summary dismissal of Ms. Victoria Hammah, Deputy Minister for Communication, as a result of a leaked recording of a conversation she had carried out with another person.
Not condoning any unethical behaviour by a public figure, nor justifying the issues which the Deputy Minister had talked about, WiLDAF Ghana is concerned about the biased discussions and comments by some segments of the public, which seek to generally denigrate women, particularly, women in political leadership.
There are several women in government holding key positions such as Chief Justice, Attorney General, Ministers and Members of Parliament, therefore, the general denigration of women in leadership does not do justice to the good work these women are doing.
We note that previous public discussions on leaked tapes, involving men in political office, were discussed by the public without reference to their gender, but focused on issues of accountability, corruption, and transparency.
It is, therefore, unacceptable that in the case of Ms. Hammah, her gender is, apparently, the focus than the issues.
Unfortunately, such biased discussions only perpetuate gender stereotyping. Further, men who made serious public statements, some of which bordered on security, and attacks on public officers, are still in government.
We expect a full investigation to ascertain the implications of the issues raised in the purported tape on governance, democracy, constitutionality and legality. The security agencies should also look at the issues of privacy, and recording of private conversations without prior consent, which seems to be gaining acceptance in the country.
It is equally important for the President of Ghana to explain to Ghanaians the reasons for sacking the Deputy Minister. This will help dispel the rumours surrounding her dismissal. Again, the government should inform the public about whether Ms. Victoria Hammah was given a fair hearing, prior to being dismissed, as this will enhance transparency in government decision-making processes.
Recently, the President called on women's rights civil society groups to come to the defense of women in leadership who may come under attack, but we have no records or reports on whether Ms Victoria Hammah was defended by the President, or given any platform to explain herself.
WiLDAF appeals to the public to discuss the Victoria Hammah tape with a practical and unbiased approach, to determine the merits and demerits of what was said. We expect that unbiased and constructive discussions on issues of governance lead to a distillation of lessons that could support people in leadership to perform optimally.
In addition, we call on all public office holders to be circumspect in their utterances and actions, and to put to use the ethics that come with public positions of trust.'
Meanwhile, the Minister of Information and Media Relations, Mahama Ayariga, has defended the President, saying he does not need to explain why ministers are fired.
Speaking on Joy FM yesterday, he noted that President John Mahama has, and would, always promote women in politics, but that does not mean that he cannot also remove them from office if he felt the need to do so.
He regretted what had happened to Victoria Hammah, but that did not mean the constitutional provisions should be stampeded.