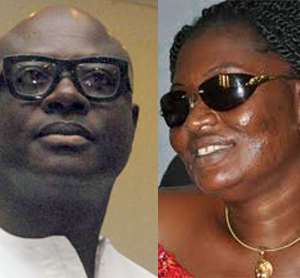 Kojo Bonsu and Freda Darko
Kojo Bonsu and Freda Darko
FREKO FD ENTERPRISE Limited has finally carried out its threat of adopting legal means to reclaim the management of the Kejetia Bus Terminal from the Kumasi Metropolitan Assembly (KMA), with the assembly being restrained from carrying out further action at the terminal.
A Commercial High Court in Kumasi, presided over by Justice Emmanuel Amo Yartey, yesterday granted Freko's wish by placing a 10-day interlocutory injunction on the facility which the KMA forcibly took over on Monday.
The court ordered that KMA should vacate the premises immediately.
The court after hearing Richard Appiah-Nkyi, counsel for the plaintiff, ordered that the defendant 'vacates the premises so as to maintain the status quo before they took over the premises.'
The court order which DAILY GUIDE has sighted further stated that 'the application for interlocutory injunction is granted for a period of 10 days. Application is to be repeated on notice after the 10 days.'
In granting the interlocutory application filed by Mr Appiah-Nkyi, the court restrained KMA from interfering with the plaintiff's possession, management and enjoyment of the facility.
 'Interlocutory injunction be and is hereby granted restraining the defendant, his agents, officers, servants, workers, assigns claiming through the defendant/respondent from interfering with the plaintiff's possession, operation, management and enjoyment of the premises called and known as Kejetia Bus Terminal within the central business district of Kumasi,' it said.
The KMA, it would be recalled, on Monday stormed the Kejetia Bus Terminal with armed police and military personnel to lock up the offices of Freko, the company which until that day managed the facility.
The KMA's action was preceded by a letter terminating the contract of Freko, signed by the Kumasi Mayor, Kojo Bonsu.
Madam Freda Darko, MD of Freko confirmed to DAILY GUIDE on Sunday that she had indeed taken receipt of KMA's letter terminating her contract, vowing to contest the case in court.
Meanwhile, when contacted, Samuel Gyamfi, the Media Liaison Officer for Kojo Bonsu, said Madam Freda Darko had the right to proceed to court to contest the issue, noting the KMA would, in due time, respond to the matter.
 FROM I.F. Joe Awuah Jnr., Kumasi