Gov't doing 'kukrukukru' with economy, workers 'kekrekekre' with demands - Bawumia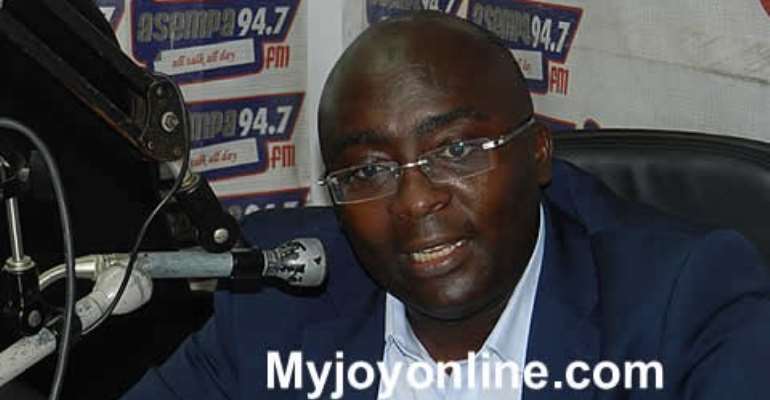 Dr. Mahumudu Bawumia has dismissed government's claim that wage bill is the cause of the country's ailing economy.
The 2012 Vice Presidential candidate of the New Patriotic Party points out, it was the desire of the National Democratic Congress (NDC) to win the 2012 elections at all cost and not wage demands as government would want the public to believe.
He is therefore accusing the governing National Democratic Congress of doing 'kukrukukru' with the economy and yet dismissing workers for responding 'kekrekekre' with persistent demands.
Dr. Bawumia made these statements while delivering the inaugural Alhaji Aliu Mahama lecture organized by the Alhaji Aliu Mahama Foundation to mark the 1st anniversary of the passing of the former Vice – President.
He was dramatizing the state of Ghana' economy using a 1990 hit song 'Kukrukukru' by Ghanaian hi-life musician Nana Ampadu. The song essentially says nothing happens without a cause.
From the Presidency to the party communicators, the government has been singing a lament that the Single Spine Salary Structure, a public sector wage policy, is the cause of the country's woes.
The wage bill for public sector workers has surged from GHS2 billion to almost GHS7 billion after government introduced the Single Spine Pay Policy (SSPP).
But Bawumia rejects this position that the wage bill is the cause of Ghana's economic woes and explains, between 2008 to 2012, there was enough revenue to pay for the huge wage increase.
Total government revenue had shot up "from GHC4.8 billion to GHC15.5 billion", to accomodate a public wage increase from GHS 4.6 billion to 6.6 billion, he noted.
According to him, with a difference of GHC10.7 billion which was "more than twice the increase in the government wage bill", the problem with the economy could not have been the wage bill.
The problem according to the former deputy Governor of the Bank of Ghana therefore "lies squarely in the area of government economic mismanagement".
He said for the sake of winning 2012 general elections at all cost, government used its largesse to give out goodies such as V8 vehicles to cronies.
Dr. Bawumia defended the right for workers to make demands saying they did not make decisions to pay out huge monies as judgment debt to businessman Alfred Woyome and companies such as Isofoton.
He continued that financial malfeasance at Ghana Youth Employment and Entrepreneurial Development Agency (GYEEDA) and SUBAH have added to the country's economic woes.
In view of this, he said politicians should not label labour as "greedy" and "unpatriotic" for making demands when the country was facing economic challenges.
"After the government does the "kukrukukru" with the economy they do not want the workers to do the "kekrekekre" to protect their standard of living!", Bawumia charged.
There has been about 13 labour agitations in 11 months since presidnet Mahama took office in January 2013. Story by Ghana|Myjoyonline.com|Edwin Appiah|[email protected]