Combine academic lessons with practical, entrepreneurial skills — KAMA CEO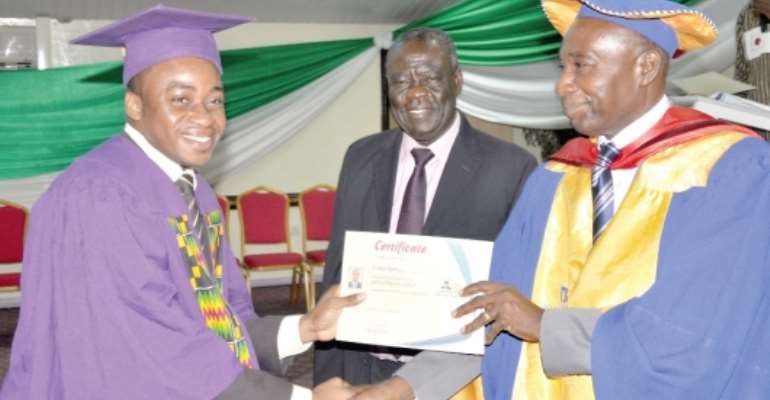 The Chief Executive Officer of the KAMA Group Ltd, Dr Michael Agyekum Addo, has urged teachers in all disciplines to incorporate practical and entrepreneurial skills into academic lessons.
 
That, he said, would help turn out entrepreneurs who would create jobs for the-less privileged and reduce the rate of unemployment in the country.
Dr Agyekum made the call during the graduation of the first batch of the KAMA Entrepreneurial Training Programme (KEP) held last Saturday at the centre in Accra.
Certificates were awarded to 51 graduates, made up of 34 males and 16 females, after eight weeks of intensive course at the KEP. The course was divided into three modules, namely entrepreneurship, entrepreneurial mind and growing your business. 
Dr Agyekum Addo, who is also the Principal of the KEP, encouraged the graduates to use their imaginations to take advantage of opportunities, create jobs and even employ others.
He further entreated the graduates to go out and propagate the message of self-employment and identify opportunities, especially talents in their areas.
Dr Addo encouraged the graduates not to allow the lack of financial resources  to affect their bid to aspire but to use such a problem to create an opportunity that would enable them to be wealthy, adding,  "Everyone has problems with money. If you want to be rich, you would have to solve those problems. Wealth is created when you solve such problems," he said.
"Occasionally, you will experience a painful sharpening, you will go through various problems or challenges such as insults, insinuations, accidents, persecutions, but be patient, understand and tolerate such situations to be able to come out successfully," he said.
Dr Addo appealed to the government and other stakeholders in the business sector to identify and other support the graduates to make their businesses grow.