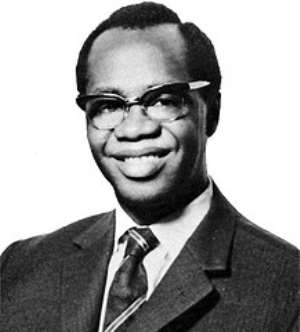 The tomb of the late Prof. K.A. Busia, Ghana's Prime Minister in the 2nd Republic was recently damaged by a group of miscreants, causing considerable damage to the mausoleum and adjoining buildings.
The grave burglars, The Chronicle learned, vandalized a large section of the mortal residence of the late Ghanaian leader and in the process smashed the glass doors and windows in the building.
Anane-Agyei, the Director of Public Affairs of the Busia Foundation International noted in a statement signed and copied to The Chronicle that the "attempted desecration of Busia's tomb was unfortunate and an indictment to the Mahama led administration's aloofness in securing the former Prime Minister's home of abode.
"The criminals only succeeded to the extent they did, due to the obvious neglect of the mausoleum. Any attempt to undermine his importance is a great dent on the image and conscience of Ghana and the entire African continent" the statement added. Considering Busia's enormous services to Ghana and the wider human race, as both a politician and an academician, "Dr. Busia was not only a statesman for Ghana but Africa and the world at large, noted the statement.
According, to the statement, the mere effrontery displayed by the charlatans to break into the tomb that holds the remains of Dr. Busia was disrespect to his ancestral lineage.
"It must be noted that Dr. Busia was not only a politician and an academic but he was also a royal and heir apparent to the Ahwenekoko Stool (Sofoase Yefri) of Wenchi. Hence, a defilement of his tomb in any way is an affront not only to the Stool of Wenchi, but also to the chieftaincy institution."
According to the foundation, they are extremely appalled by the government's definite silence on the issue lamenting that it found it intriguing that 'the government has so far elected to be unconcerned about this important matter.
"We think that the action and inaction of the government by not even issuing a statement of condemnation is a dangerous precedent as security to the final resting place of all our leaders should be a priority," it bemoaned.
The Busia Foundation International, therefore, wishes to draw the Government's attention to the neglect of the Busia Mausoleum since 2009, stating that "It is extremely worrying for an important national asset like the mausoleum of a former leader of the nation to remain unguarded such that criminals would have the effrontery to attempt defiling it.
"May we assure the good people of Ghana and the world that the attempt of the criminals, whatever their intentions, might have been in looting the grave of Dr. Busia has been foiled.'