Speaker intervenes to solve salaries of parliamentary workers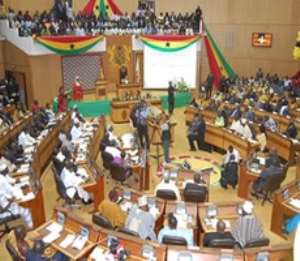 Speaker of parliament, Edward Doe Adjaho, today, met executives of the parliamentary service workers union in an attempt to avert a possible strike.
The meeting ended with an agreement that those working on the issue should expedite actions and get the issues resolved, Mr. Benjamin Mingle, leader of the workers, told Joy News.
According to him, the parliamentary service workers are demanding a complete salary review, including job evaluation and job placement with a structure. They are therefore demanding back payment of their salaries following the delays encountered between the time the contract was awarded and the time it should have ended.
They also demanded to be made part of the parliamentary committees' work since it affects them, Mr. Mingle intimated.
Parliamentary service workers are not part of the single spine policy structure, and as a result, a new salary structure was developed for them and this was done through a contract between the parliamentary service and a consultant called Harry Reed.
The contract, supposed to last for 24 weeks; between June 2012 to December 2012, has still not been completed.
Apprehension set in among the workers, when sometime last month, there were some letters from the consultant to the clerk of parliament, asking for the review of guidelines to set the full implementation of salary review effective end of November.
The workers have complained about poor salary and poor service conditions. Planned demonstration by the workers yesterday was foiled following intervention by the speaker, who also doubles as head of the parliamentary service board.
Meanwhile, Chairman of the workers union, Maxwell Tetteh noted that the last time salary was review was April 2004.
"Since the inception of the single spine salary, we have not had any issue with salary review since 2004", he noted.