UN Council boosts Somalia force by 4,400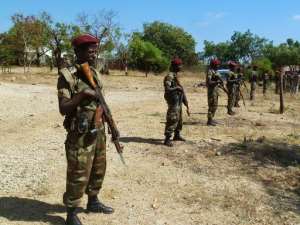 A file photo taken on March 2, 2012 shows Ethiopian soldiers standing guard before a display of weapons left behind by Shebab militias at their former base in Baido. By Jenny Vaughan (AFP/File)
New York (AFP) - The UN Security Council on Tuesday approved a 4,400-troop boost to the African force in Somalia, taking it to more than 22,100 troops deployed to tackle resurgent Islamist militants.
The 15-member council voted unanimously to allow the increase while renewing the mandate of the African Union force.
The maximum size of the AU Mission in Somalia (AMISOM) will increase from just over 17,700 to 22,126. The extra troops are expected to start arriving in early 2014, diplomats said.
AMISOM backs Somali government forces who have forced Shebab fighters out of key cities over the past 18 months.
But the Al-Qaeda linked militants have proved they can still stage major attacks on soft targets such as the Nairobi mall strike in September, which left at least 67 dead.
The Ethiopian government warned on Tuesday that Shebab is planning more high profile attacks.
On top of the troop increase, the Security Council resolution also allowed the deployment of a special guard force to protect the UN mission in Somalia, which has been the target of several suicide bomb attacks.
"As recent attacks show, Shebab continue to pose a threat not just to Somalia, but tot the wider region," said Mark Lyall Grant, UN ambassador for Britain, which has taken a leading role in international efforts to rebuild a functioning state in the lawless East African country.
Lyall Grant told reporters after the vote that the extra troops "should allow AMISOM to go onto the front foot and gain momentum in tackling Shebab."
AMISOM is made up of troops from Uganda, Burundi, Djibouti, Sierra Leone and Kenya. Ethiopia has said it is considering putting its own separate force in Somalia under AMISOM command.