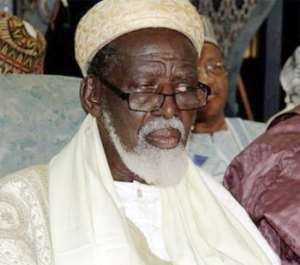 THE NATIONAL Chief Imam last Saturday led hundreds of Muslims to usher in the Islamic lunar New Year, 1435 at the Press Centre in Accra, last Saturday.
It was the first time that a formal arrangement was accorded the event.  According to Islamic tradition, the Holy Prophet Mohammed (S.A.W) under persecution from the people of Mecca took a journey from Mecca to Medina in A.D. July 16,622 migration which marked the beginning of the Islamic calendar referred to as Hegira in the Islamic world.
Various speakers including Sheik Doctor Amin Bonsu of the Ghana Muslim Mission, Hajj Ibrahim Umar of the Islamic Research Centre representing the Ahli Sunna group took turns to address the main issues confronting Muslim communities such as poverty, health, education and language barrier.
Sheik Amin Bonsu called on all Muslims to contribute to efforts to building more Islamic schools in Muslim communities to help strengthen Muslim beliefs in young and upcoming Muslims.
Hajj Ibrahim Umaru based his speech on the lack of understanding of the holy Qur-an due to a huge language barrier which Ghanaians were finding difficult to overcome. He explained that Ghanaian Muslims needed to read and understand the holy Qur-an in their own language, particularly the English language, and any other language they could understand. He said most Ghanaian Muslims do not also understand Arabic, the language in which the Holy Qur-an was originally delivered to the Holy Prophet, and this had put them at a huge disadvantage.
Imam Suleyman who gave the welcome address bemoaned how the youth and adults of the Muslim community have become ignorant of the celebration of the Islamic New Year, 'This is not a surprise to me at all, as most young Muslims and adults of today cannot not tell the names of the months on the Islamic calendar like they have memorized the Gregorian and Western calendar,' he added.
The event was organized by Wa Rasul Umma led by Hajj Issa Monnie and attended by representatives from the Ghana Muslim Mission, COMOG, the Shi-ite community and Ahli Sunna wal jam at.