Vickie Hammah may have suffered from the Law of Kama - Hare Krishna Movement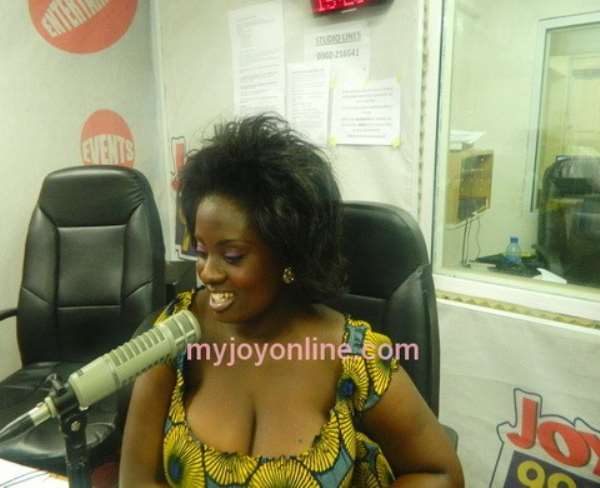 The Communications Director of the Hare Krishna Movement in Ghana, Jnana Chaksus Das says Victoria Lakshmi Hammah's woes could be because she threatened to kill a journalist and his family with Yoga.
According to him, if Vickie Hammah was a true Yogi, she should have known that the privileged knowledge and power given to a Yogi, is not meant to threaten or to destroy people because the rules regarding those privileges is that "once you use it for evil you should be ready for the consequences."
Chaksus Das was speaking to Adom News about the meaning of the Hindi name "Lakshmi", which formed part of Vickie Hammah's names.
He said in the Hundu religion, Lakshmi is the name of the female deity in charge of money, so anyone, male or female, who is given the name Lakshmi, stands the chance to become wealthy, provided the person lives according to the likes and dislikes of the goddess.
"Lakshmi does not like intoxication (drinking and smoking) and an atmosphere of strife and quarrel. Lakshmi likes that you take your bath early in the morning before sunrise and say special prayers and a few other requirements that can make you benefit from the name," he said.
But it would be recalled that following the famous "edited speech" incident where Vickie Hammah blamed her protocol team for giving her an unedited speech to read in public, Adom News Editor Samuel Nii Narku Dowuona took to her private inbox on Facebook to give her a piece of advice, and she picked up a fight with him.
Here are the exact words of the Adom News Editor to Vickie Hammah:
I look at this issue in two ways. 1. I suspect someone MIGHT BE trying to sabotage you at the Ministry of Communication.  2. I do not think you are the only Minister who finds mistakes in their written speech even after editing. If all your colleague Ministers would have to react the way you do, then I wonder what kind of image they would be putting out there. I disagree with you that your behaviour on that occasion was unusual. You did a similar thing at the launch of the Expresso ACE Fibre Optic cable. It was very embarrassing, but we the media guys agreed to spare you. This time [round], it was over the top, and we needed to talk about it so that you would check it. You were right when you said people are prejudiced about you. Personally I am not. But that prejudice should rather make you perform above board, or even when you are under pressure, you should shoulder the responsibility rather than always trying to shift blame for the whole world to think you have such a bad team. And your bizarre expose on how people are putting pressure on you to "steal state funds for them" or use your office to give them opportunities. That was unusual and can land you where no journalist can [ever] land you.
Following this advice, Vickie Hammah threatened to kill Adom News Editor's son to teach his "stupid journalist friends a lesson."
She also used expressions like "you fool - don't f**k with me - I will cause mourning in your family soon - this is not a threat it is a promise," and more.
It would be recalled that when that incident occurred, the Adom News Editor said on radio and on social media that he would rather let God fight his battles than to take on Vickie Hammah in the media or with the law.
According to Jnana Chaksus Das, the Adom News Editor did the right thing in not fighting back, because those threats were unbecoming of a true Yogi, particularly when the one being threatened only gave an advice rather than did anything to offend the Yogi.
"It is strange how when people are expected to become even more humble as they advance in life, they rather become pompous and think they can use their privileged position to cause harm to others," he said. "A true Yogi knows better than to use their power to do evil because once you do that all the forces of the universe will work against you."
Jnana Chaksus Das said it is therefore possible that Vickie Hammah's sack from government could be because she applied her privileges as Yogi wrongly.